Edward Logan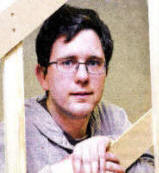 EDWARD Logan, 22, from Lisburn is a member of Lisnagarvey Operatic Society who recently staged a production of The Sound of Music at the Island Arts Centre. He has been in Lisnagarvey Operatic society for a year. When he joined the society Edward was a student at SERC but now is full time employed by Wells - Kennedy Partnership Pipe Organ Builders.
What do you like doing on your day off?
I like going into town with my girlfriend Rachael and my sister Rachael. I also like to go for drives in the countryside.
If you were to choose your favourite meal what would it be, where and why?
My favourite meal is the empire state burger in Ed's diner, it is well worth the wait.
What has been your proudest moment?
My proudest moment was when I did a mission trip to Canada to help deprived children in a project called Urban Promises in Toronto.
What was the most frightening moment of your life?
When I was seven years old I was chased by a dog and I now have a fear of dogs.
How would you describe your taste in clothes?
My girlfriend keeps me right on this subject but I say I have good taste in clothes.
What would you do if you won a million pounds?
I would get married to my girlfriend Rachael and build a house for us to live in.
What was your most embarrassing moment?
I was in Panto doing Peter Pan, I was playing a leading role and I stepped back and knocked all the scenery down.
What music do you like?
I like all kinds of music from classical to pop.
What sports person do you most admire?
I don't watch any sports so I don't really have a favourite.
Describe your best ever holiday. What would your dream holiday be?
The best holiday I had was when I went to Toronto in Canada and my dream holiday would be to go to the Maldives with my girlfriend.
What is your greatest remaining ambition?
I would love to sit down someday and learn to play the church organ and become an organist and become a great organist and a good husband.
If you could spend a day with a celebrity whom would you choose?
It would probably be Lady Gaga or Nicki Minaj.
If you were stranded on a desert island what three things would you want with you?
A survival kit, a bottle and some cling film.
Favourite things
Car: Ford.
Film: American Pie.
Comedian: Russell Howard.
CD: Les Miserables.
Book: Twilight.
Actor: Robert Pattinson
Actress: Kristen Stewart.
Drink: Loch Lomond single Malt Scotch Whisky.
Ulster Star
04/05/2012