Fiona Ferguson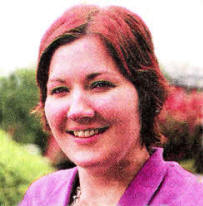 FIONA Ferguson, 31, from Lisburn runs Sign2music classes for babies and toddlers at Harmony Hill Church on Thursday and Saturday, babies 10.00am and toddlers 11.15am both days. She is mother to Faye and married to Martin. Fiona also volunteers at the Base at the Harmony Hill church. It is a drop in centre for teenagers and is a Guides leader at Harmony Hill Church too.
What do you like doing on your day off?
Spending time with my two year old daughter Faye.
If you were to choose your favourite meal what would it be, where and why?
My favourite restaurant would have to be the Ivanhoe Hotel on the Saintfield Road Belfast. They make the best lasagne with garlic potatoes. The staff are so friendly and service is fast. It is very clean and very children friendly.
What has been your proudest moment?
Becoming a mummy to Faye.
What was the most frightening moment of your life?
Giving birth for the first time.
How would you describe your taste in clothes?
Funky and comfortable.
What would you do if you won a million pounds?
Pay off mortgage, give some to parents and family. Give to charity and treat the family to a nice car and holiday.
What is your most embarrassing moment?
This was on my wedding day when we where giving our wedding vows when I lost my words. I was that nervous my mouth was opening but nothing was coming out. I will always remember that was my first time when I was lost for words.
What music do you like?
Pink, Jessie j , W i-am
What sports person do you admire?
George Best
Describe your best ever holiday. What would your dream holiday be?
Being on honeymoon with my husband Martin in Domincan Republic. I would love to go to Disney land with Martin and Faye.
What is your greatest remaining ambition?
To run more sign2music classes in Lisburn. We recently won an award at the Down Council Business awards and we are in the final of' 'Whats on 4 little ones 2012'.
If you could spend a day with a celebrity whom would you choose?
Jonny Depp
If you were stranded on a desert island what three things would you want with you?
My mobile, family photos and music.
Favourite things
Car: Vauxhall Beetle
Film: Twilight Breaking Dawn Part 1
CD: Pink
Book: Sharon Osbourne Extreme: My Autobiography
Actor: Jonny Depp
Actress: Halle Berry
Drink: Fanta orange
Ulster Star
22/12/2012