Gordon McKeown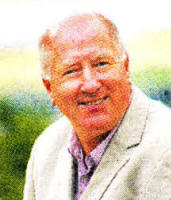 GORDON McKeown, 62, from Lisburn is Chairman of Friends of the Cancer Centre, the official charity for Northern Ireland's regional centre of excellence in cancer care based at the Belfast City Hospital. He is a qualified chartered engineer and made his career in various positions of estate management within the health service, across a number of sites. It was a career that spanned over 30 years. His last role was as Head of Estate Management at the Royal Hospitals.
What do you like doing on your day off?
I really like supporting Ulster Rugby. 1 went to Milan just before Christmas to see their Heineken Cup match.
If you were to choose your favourite meal what would it be, where and why?
If I'm in the mood for fish then I'd head to Café Square; for scallops I'd go to Del Torro; it's The Racecourse Inn for a chicken and mushroom risotto; and Spice if I'm in the mood for an Indian meal.
What has been your proudest moment?
There have been many. First would be my three children who then gave me six beautiful grandchildren, who're all currently under 4 years old. I'm extremely proud of them, one son has his own financial consultancy; the other son's a joiner; and my daughter is a special needs teacher in Belvoir Park primary.
What was the most frightening moment of your life?
In my career, it was when the Royal Hospitals lost power supply to the intensive care unit but thankfully the backup systems kicked in.
How would you describe your taste in clothes?
I had to wear suits when I was at work— they tend to make me feel like I'm putting on my overalls when I wear them now. I mostly go for smart casuals now, rarely wearing ties apart from when on duty for 'Friends.
What would you do if you won a million pounds?
To me 'wealth is when you've got everything you need,' so I would probably give it away to family. The main thing in life is that you've got your health.
What was your most embarrassing moment?
It had to be when I failed to recognize my boss's wife. She was in 'civilian' clothes and I thought she was a nurse I worked with, so I hailed her with "I didn't know you with your clothes on!" However when I realized who she was it hard to say which of us was most embarrassed!
What music do you like?
Anything from Van Morrison or Christy Moore. I like music with a Celtic feel. I also like Christy Hennessy but I'm not allowed to play him at home!
What sports person do you most admire?
Local people who've done well in sport but also demonstrated leadership skills while still overcoming challenges encountered in their personal lives. Such as Harry Gregg, Darren Clarke, Martin O'Neil and Mickey Harte.
Describe your best ever holiday. What would your dream holiday be?
In recent years I enjoyed trips to the Panama Canal and Alaska. But the most memorable trip was when I got to see the magnificent Iguazu Falls that are located on the border of Brazil and Argentina. We got to stay in Rio de Janeiro right on Copacabana beach before flying out to the Falls, and then we travelled on to Salvador.
What is your greatest remaining ambition?
To see my grandchildren grow up; to be able to continue to draw my pension for as long as I can, with good health; and to see Friends of the Cancer Centre given the recognition it deserves as the premier local cancer charity.
If you were stranded on a desert island what three things would you want with you?
A book a solar powered MP3 player and a fishing rod.
Favourite things
Car: Volkswagen Passat CC
Film: 'It's A Wonderful life.'
Comedian: Jimmy Cricket
CD: Christy Hennessey's 'Remember Me'
Book: Sir Bobby Robson's Autobiography "Farewell but not Goodbye."
Actor: Liam Neeson
Actress: Amanda Burton
Drink: Neat Cognac
Ulster Star
13/01/2012