Jane McKibbin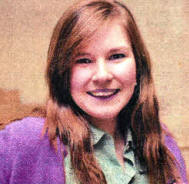 JANE McKibbin, 21, from Hillsborough is a cast member of Lisnagarvey Operatic Society which is staging The Sound of Music in Lagan Valley Island Hall from Tuesday April 24 until Saturday April 28 Jane is playing Liesl von Trapp and is currently studying for a Masters Degree it Medieval Studies at Queen's University Belfast.
What do you like doing on your day off?
I enjoy baking - which is great fun but not so good for the waistline. To work the baking off I also enjoy going for runs and taking long walks.
If you were to choose your favourite meal what would it be, where and why?
I'd probably go to The Belfast Mourne Seafood Bar and have anything. I never really cook fish so I love going out for it.
What has been your proudest moment?
Passing the finish line of the Belfast Marathon when I was only meant to do a 6 mile leg of the relay.
What was the most frightening moment of your life?
When I was 11 there was a Halloween party at my house and a dodgy firework toppled over and shot into our utility room - thankfully no one was hurt.
How would you describe your taste in clothes?
I love wearing dresses. I'd say I'm quite casual. I love vintage clothes.
What would you do if you won a million pounds?
Probably buy myself a house, spoil my mum and brother and give some to charity.
What was your most embarrassing moment?
Stalling in the middle of the roundabout during my first driving test
What music do you like?
A bit of everything - but I'm really into acoustic music like Foy Vance.
What sports person do you most admire?
Paula Radcliff.
Describe your best ever holiday. What would your dream holiday be?
Spain with my family. I'd love to go to New Zealand and do some wine tasting.
What is your greatest remaining ambition?
Currently it's to get through my degree. I would also love to complete all my singing diplomas.
If you could spend a day with a celebrity whom would you choose? Marilyn Monroe.
If you were stranded on a desert island what three things would you want with you?
A fully charged iPod, a good book and a pen and paper.
Favourite things
Car: Vintage mini
Film: A Good Year
Comedian: Michael McIntyre
CD: Bruce Springsteen - We Shall Over-come: Seeger Sessions
Book Piers Plowman (William Langland)
Actor: Colin Firth
Actress: Sienna Millar
Drink: Red wine.
Ulster Star
27/04/2012