Jordan Humphries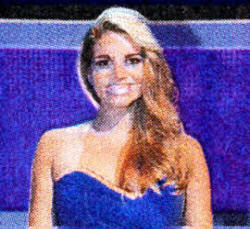 Jordan Humphries
Jordan Humphries, 21, from Lisburn is studying Primary Education at Stranmillis College and is a contestant in the current series of the ITV television show Take Me Out.
What do you like doing on your day off?
I like to have a wee lie-in then go for a full body massage or a facial. Then I'd probably go home, get back in to my pjs and watch a film under my duvet with a few girlfriends and a tub of Ben and Jerry's! I love chilling at home.
If you were to choose your favourite meal what would it be, where and why?
My favourite meal is either a rare fillet steak with mushrooms and tobacco onions or my mums homemade ribs with loads of potatoes. My mum is an amazing cook and I love being at home for dinner with my family.
What has been your proudest moment?
Getting 100% in my musical theatre diploma with the London College of Music when I was 16.
What was the most frightening moment of your life?
I did the world's highest bungee jump in South Africa. I was too scared to jump so the instructor pushed me over the edge - it was terrifying!
How would you describe your taste in clothes?
Very mixed- I range from very casual to glamorous. For university I tend to live in tracksuit bottoms and hoodies. If I take a bit more time getting ready I love wearing pretty dresses and cardigans and then for night time I have a lot of Lipsy dresses and killer high heels.
What would you do if you won a million pounds?
I'd buy a private jet as I fly a lot but hate airports. And I'd take my mum, dad and brother on a lovely 5 star holiday.
What was your most embarrassing moment?
I embarrass myself on a fairly regular basis. It's good though as I have learned to just laugh at myself.
What music do you like?
I really tend to just listen to whatever is in the charts- I'm not very trendy when it comes to music. I love anything I can sing along to and have a weakness for musicals too.
What sports person do you most admire?
I am a huge fan of rugby and really admire the whole Ulster rugby squad, especially for their amazing performances recently after the tragic passing of Nevin Spence.
Describe your best ever holiday. What would your dream holiday be?
I've had a lot of incredible holidays. This past summer my best friend and I travelled around America for 6 weeks. We went to Florida, California, New York and Las Vegas - it was amazing. If I had unlimited money I would go back for a two week holiday in Las Vegas and really do it right!
What is your greatest remaining ambition?
Its not my biggest life goal but my next TV ambition is to be on Come Dine With Me! That would be so much fun.
If you could spend a day with a celebrity whom would you choose?
Harry Styles from One Direction!
Ulster Star
19/10/2012