Kacey Sherry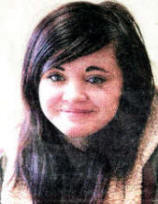 KACEY Sherry, 14, from Ballinderry is a pupil at Lisnagarvey High School and recently spent a week on work experience at the Star.
What do you like doing on your day off?
Be lazy and lie in bed with munchies and a dvd.
If you were to choose your favourite meal what would it be, where and why?
Spaghetti Bolognese in Italy, because I like it and would love to go to Italy.
What has been your proudest moment?
When I won my life saving swimming badge.
What was the most frightening moment of your life?
When I was on a flight to Spain and the turbulence was extremely bad.
How would you describe your taste in clothes?
Normally jeans or leggings with a jumper or cardigan.
What would you do if you won a million pounds?
Take my family over to see the relatives in America.
What was your most embarrassing moment?
Falling down a hill on sports day when I was in second year.
What music do you like?
All sorts, Eminem, Rihanna, Script, anything really.
What sports person do you most admire?
Sir Bobby Charlton because I support Manchester United and throughout all his appearances he scored nearly 250 goals.
Describe your best ever holiday. What would your dream holiday be?
Florida was my best holiday, the weather was amazing, the theme parks were class and I got to see my family over there. My dream holiday would be to travel all around the world and see all the different cultures.
What is your greatest remaining ambition?
To go over to deprived countries to make a change.
If you could spend a day with a celebrity who would you choose?
John Cena, to see how hard he trains.
If you were stranded on a desert island what three things would you want with you?
Water, food and phone.
Favourite things
Car: Jaguar XKR-S
Film: The Bucket List.
Comedian: Lee Evans.
CD: Rihanna, Talk That Talk.
Book: Twilight
Actor: Morgan Freman
Actress: Megan Fox
Drink: Ribenna
Ulster Star
09/03/2012