Laura-Louise Selby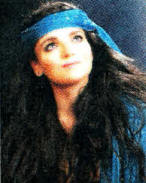 LAURA-LOUISE Selby, 23, from Dundrod, recently competed in the inaugural Miss Hollywood NI competition. The unique competition has been created to raise funds to help establish Angel House - a home in India for babies abandoned by their families because they are female. Laura is studying psychology at Queen's University.
What do you like doing on your day off?
I'm constantly with my little brothers Ethan and Eoin. I teach them how to cook and in return they laugh at how I can't kick a ball. It's a lively house but when you live in the country that's normal life. I love to cook, shop and I've recently started dress making.
If you were to choose your favourite meal what would it be, where and why?
A little restaurant in Marmaris Turkey called Mustis. They do the most amazing fajitas you will ever taste.
What has been your proudest moment?
Working my way into university. Wasn't easy and best moment was holding the acceptance letter and mum gave me that mummy teary eyed look and hug that said I'm so proud of you.
What was the most frightening moment of your life?
Drowning three times. Lucky I had my dad there to trail me out of the water by the hair every time. I must be the world's best drowner and I still can't swim at 23.
Describe your taste in clothes
Eclectic. I never throw a way clothes and mix and match loads of different styles. My wardrobe holds everything from vintage to Halloween costumes. On a normal day I'm a skinny jeans and t shirt girl with flat shoes- just to make life easier.
What would you do if you won a million pounds?
I'd look after my family and make sure everyone had a house and maybe a holiday if there's enough left over.
Most embarrassing moment?
Oh gosh I put my foot in it all the time with some things I say. Things just come out wrong but thankfully all my friends know me well enough not to let me live stuff down and most importantly to laugh - mostly at me but I give it back just as much when they do something embarrassing.
What music do you like?
R n b/ hip hop. But I grew up listening to the greats like Bon Jovi, Queen, Hendrix music was a massive part of growing up. A song should evoke a memory
Describe your best ever holiday. What would your dream holiday be?
Best holiday ever was when I was 11 and my parents took me and my sister to Disney in Florida. Gorgeous weather, amazing food and spectacular memories. From I was four I've wanted to travel around India seeing the real India eating real Indian cuisine and seeing a Diwali festival. Still a dream today.
What is your greatest remaining ambition?
To travel the world and learn how to cook the food of that country properly. I love cooking and travel is a must for me, fascinated with different cultures and ways doing things.
If you could spend a day with a celebrity whom would you choose?
Jessie J.
If you were stranded on a desert island what three things would you want with you?
Cans and cans of Pepsi Max my iPhone and my iPod
Favourite things
Can Fiat 500 car
Film: Bollywood
Comedian: Tommy Tiernan
CD: They still exsist?
Book: Anything with a happy ending;)
Acton: Johnny Depp
Actress: Aiswaryia Rai
Drink: Pepsi Max
Ulster Star
25/05/2012