Lynsey Stewart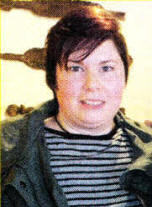 Lynsey Stewart, 30, from Finaghy, recently released a single to raise money for Brain Tumour UK, the charity which supported her late father.
What do you like doing on your day off?
Spending time with my family and dogs, and occasionally playing on the Xbox.
If you were to choose your favorite meal what would it be, where and why?
I love pasta and Chinese food. I'm vegetarian, so my favourite restaurants to go to are Villa Italia or the Wa Fu, such lovely atmospheres and friendly service.
What has been your proudest moment?
Going over to London to record the charity single in memory of my Dad and in aid of Brain Tumour UK.
What was the most frightening moment of your life?
My most frightening moment was during my last place of work when two men held us up during a robbery.
How would you describe your taste in clothes?
I would say casual/rock chick style.
What would you do if you won a million pounds?
I would give money to my family, open an Animal Sanctuary as it's always been my dream to work and care for animals. Also I would give to charity which I feel strongly about.
What was your most embarrassing moment?
So far I've been lucky not to have any (hope I haven't spoken to soon).
What music do you like?
I like a variety of music, but the most I would listen to would be pop, rock and dance.
What sports person do you most admire?
I was brought up with my Dad and Brother's love of motorbike racing so I would say Joey and Robert Dunlop, and to see their sons following in their footsteps!
Describe your best ever holiday. What would your dream holiday be?
My best holiday was when I was a child we went on a caravan break to Milisle with my Nana and Papa and dad as a family - unfortunately they are no longer with us. But if I had to choose my dream holiday it would be a break away with my mum, sister, brother and their partners with my niece and nephews.
What is your greatest remaining ambition?
To change the way some people treat animals so they can treat them with respect and also to one day open an animal sanctuary to help as many animals in need as I can.
If you could spend a day with a celebrity whom would you choose?
There's quite a few P!nk, Adam Lambert or Girl Group Parade who I've met a couple of times already, they're such lovely girl's and so down to earth, friendly and so fun to be with.
If you were stranded on a desert island what three things would you want with you?
My family, my dogs and Mp3 player.
Favourite things
Car: Ford Focus
Film: The Mummy Trilogy
Comedian: John Bishop/Alan Carr
CD: All my P!nk albums & Parade
Book: Anything on Titanic/ Biographies
Actor: Belfast Actor Gerard McCarthy
Actress: Joanna Lumley
Ulster Star
27/07/2012