Miriam Thompson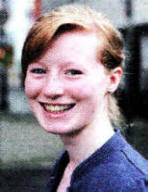 Miriam Thompson, 15, from Belfast was recently at the Star on work experience as she is interested in pursuing a career as a journalist.
What do you like doing on your day off?
I would usually go out with my friends to somewhere we could all relax and have fun. I like to write so if I can get a quiet place I would also like to put pen to paper in one of my many notebooks.
If you were to choose your favourite meal what would it be, where and why?
On my birthday Mum lets me choose my favourite meal and it's always lasagne which I love to eat at home with my family including my Gran and Grandad. I like the time we get to share together and I wouldn't change it because we are all so close.
What has been your proudest moment?
I think my proudest moment has to be when I found out that I had won a writing competition I entered when I was eleven. I was so surprised but also really grateful for all of the encouragement I received from family and friends. I even got a newspaper interview and article, it was so surreal.
What was the most frightening moment of your life?
The most frightening moment of my life was when I was four or five and we were on a family holiday in Donegal. I remember the moment vividly when I ran outside as it was dark and I couldn't see that the ground was marshy so I ran straight into it and started sinking to above my waist. Thankfully my Dad and his friend rescued me and I was soon home and dry.
How would you describe your taste in clothes?
I would like to think that I have a unique style which mixes different fashions to create my own look that I'm comfortable with.
What would you do if you won a million pounds?
If I won a million pounds I would love to spend most of it on charities such as the Cystic Fibrosis Trust which my Dad volunteers with to raise money for my cousins who have cystic fibrosis. I would then like to buy a house for my family, my Gran and Grandad. I could then give some money to everyone in my family and maybe keep a small bit for myself.
What music do you like?
I like different styles of music from artists who aren't always in the top charts and whose music I get to know mainly from my brothers.
What sports person do you most admire?
Eleanor Simmonds is a paralympic swimmer who has achondroplasia which causes her dwarfism but that doesn't stop her achieving her goals.
Describe your best ever holiday?
I usually go on holiday with my family including my Aunty Olwyn and Uncle George and any holiday where we are all together is my favourite with my brothers away at university and finishing school.
What is your greatest remaining ambition?
I would love to be a printed journalist and an author when I am older.
If you were stranded on a desert island what three things would you want with you?
I would take my Bible with me as I am a Christian and it would always be my first choice to give me guidance and comfort. I would also take a note book where I could write down my adventures and lastly some sun cream because I would probably burn if it was sunny.
Ulster Star
20/07/2012