Rebekah Wallace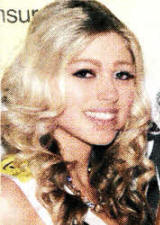 REBEKAH Wallace, 19, was recently named Miss Lisburn and won a place in the grand final of the Miss Northern Ireland Competition which took place in Belfast last Monday. She is currently on a gap year but hoping to study acting next year. Rebekah has been dancing since the age of two and one day hopes to take over her mum's dance school, the Lynda Wright School of Dance.
What do you like doing on your day off?
I enjoy spending time with family and friends and my lovely boyfriend Samuel, all of whom are supportive and understanding when I take on new challenges.
If you were to choose your favourite meal what would it be, where and why?
My favourite meal would have to be king prawns in a tomato and chilli sauce and papardelle bisteca from Zio's in Portadown with my loved ones.
What has been your proudest moment?
I have many moments in which I have made myself and family proud but if I had to narrow it down it would have to be the year I took home 14 awards from a dance festival as I worked extremely hard and it paid off and also winning Miss Lisburn as I had my mum and granny in tears.
What was the most frightening moment of your life?
This would have to be walking over the top of Sydney harbour bridge at the age of 13, however it was an amazing experience.
How would you describe your taste in clothes?
I love clothes from vintage styles to more modern styles, I would say that my taste is very colourful and although I'd love to be able to afford designer brands I love finding great bargains that look just as nice.
What would you do if you won a million pounds?
I would save a lot of it so that I could carry out my dream of travelling the world and also being able to open up my own dance studio. However I would also send a lot of money to charity as I am extremely grateful for what I have and I feel everyone deserves equal happiness no matter what country they may be from so giving a helping hand would mean so much to me.
What was your most embarrassing moment?
Definitely the time I cried on stage in front of a full audience at just 3 years old, it was my first festival and I knew my dance perfectly but I just got so embarrassed that I burst into tears,
What music do you like?
I love a mixture of music such as pop, rock and hip hop. Being so heavily involved in dance I have come to admire all different types of music but I would have to say my favourite band in Snow Patrol as I love the lyrics in their songs.
Describe your best ever holiday. What would your dream holiday be?
My best holiday was when I went to Australia for 3 weeks as I had the opportunity to stop off in Hong Kong and Bangkok, it was great to see the different cultures and all the wonderful sights each of these countries had to offer such as standing at Victoria Peak, the highest point in Hong Kong and stroking kangaroos and koala bears however the sharks frightened me a bit. My dream holiday would be a road trip around America.
What is your greatest remaining ambition?
To become an actor whether it be on stage or television as it has been a lifelong dream and although I have had so many great experiences in this field so far I will never give up because nothing is enough when it comes to something you really love.
If you could spend a day with a celebrity whom would you choose?
Liam Neeson because he is my inspiration and I have been told by so many that when you come from Northern Ireland nothing big can happen and I need to change my dream, however he never gave up and look at where he is, I want to be the next person to prove great things can come from a small country.
If you were stranded on a desert island what three things would you want with you?
My family, my boyfriend and sun cream.
Favourite things
Car: Porsche
Film: Schindler 's List
Comedian: Michael McIntyre
CD: Snow Patrol's Greatest Hits
Book: No time for Goodbye.
Actor: Liam Neeson
Actress: Meryl Streep
Drink: Water
Ulster Star
18/05/2012