Robyn Gregg,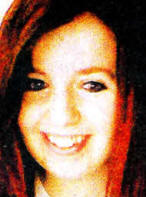 Robyn Gregg, 18, is a member of Lisburn drama group Fusion Theatre. She loves singing especially with Fusion as it makes her feel part of something important.
What do you like doing on your day off?
Spending time with friends or my family, on quieter days I like staying in and watching films or Family Guy.
If you were to choose your favourite meal what would it be, where and why?
I don't have a particular meal in mind just anything with pasta really. I would say Italy, there's so much history and culture there.
What has been your proudest moment?
I can't remember the exact moment but one of my friends once told me exactly what I meant to her because we had known each other for so long, that was my proudest moment.
What was the most frightening moment of your life?
I was in a car crash once, not a severe one but it was the only one I'd ever been in and I didn't know what to think or. do. I just sat frozen in the car, you go through quite a thought process and even though everyone was OK it didn't stop me from thinking about what could have happened.
How would you describe your taste in clothes?
I don't worry about trends, just whatever fits me and makes me look and feel like me, I would never wear something that didn't feel right inside just because it's what everyone else is wearing.
What would you do if you won a million pounds?
Dance like Mick Jagger to get over the shock. I have absolutely no idea what I'd do with so much money but I hope I could do some good with it
What was your most embarrassing moment?
Oh I've had plenty. The most embarrassing ones usually include me falling over in public. It was raining outside when I was walking to town and my shoes got soaked which made walking on smooth surfaces difficult so as soon as I entered the shopping centre I slipped and fell flat on the floor.
What music do you like?
Any. As long as it makes me feel something eg happy, intrigued or even sad then I'll love it
Describe your best ever holiday. What would your dream holiday be?
Best holiday had to be a holiday with my Dad and brother when we went to Tenerife. We saw all sorts, went snorkelling on the beach and to a huge water park. If I was to pick anywhere in the world to go next then it would be Rome.
If you were stranded on a desert island what three things would you want with you?
A case of food and water, and two people to keep me company - preferably people I already know and have banter with.
Favourite things
Car: Mini cooper
Film: Lord of the Rings
Comedian: Lee Evans
CD: Nickelback - All the Right Reasons
Book: Harry Potter series
Actor: Tom Hiddleston/Liam Neeson
Actress: Kate Winslet
Drink: Coke/Pepsi (on a night out throw a little hit of Jack Daniels in there).
Ulster Star
12/10/2012