Rosemary Ogden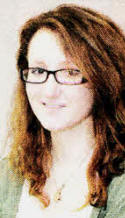 ROSEMARY Ogden, 16, from Hillsborough is a Lower Sixth student at Banbridge Academy studying Art, Business Studies, History and Photography. She was recently in the Star finding out what life as a journalist is like.
What do you like doing on your day off?
Usually I go out with friends or spend the day doing art coursework or reading, nothing exciting.
If you were to choose your favourite meal what would it be, where and why?
Anything from Subway, I'm a really picky eater and I can choose what I want there.
What has been your proudest moment?
When my sister was born. I was just happy to finally have a sister after three brothers.
What was the most frightening moment of your life?
When I was about 8 my brother tipped me upside down in a rubber ring in the pool. I couldn't get back up and it felt like I was underwater for ages, but I probably made it scarier by panicking.
How would you describe your taste in clothes?
Really casual, I live in jeans and hoodies, but I'll wear pretty much anything that isn't extremely girly.
What would you do if you won a million pounds?
Give some to each of my family members, save some, leave enough to pay for university and then probably give the rest to charity.
What was your most embarrassing moment?
I was walking down stairs in school two at a time, boasting about how I could do it without falling after my friend did when I tripped on my own feet and fell face first down them in front of everybody.
What music do you like?
I listen to basically anything as long as it isn't terrible, but usually I listen to bands like Maroon 5 or Enter Shikari.
Describe your best ever holiday. What would your dream holiday be?
My best holiday was when my family and my aunt's family went to Donegal for a week. There were about 12 kids in one house at one stage but nobody cared, it was brilliant. My ideal holiday would be to go somewhere with a group of people, it's no fun with just a few.
What is your greatest remaining ambition?
At the minute it is to study History at university, but I'll probably change my mind about that in a week.
If you could spend a day with a celebrity whom would you choose?
If he was still alive I would want to spend the day with the artist Salvador Dali, but I would probably spend it with the Queen to find out what she's like when she's not in public.
If you were stranded on a desert island what three things would you want with you?
My ipod with a means of charging it, a Stieg Larsson book and internet access.
Favourite things
Car: I'm not really into cars,
Film: Sweeney Todd
Comedian: Russell Howard
CD: Hands All Over by Maroon 5
Book: The Girl With the Dragon Tattoo
Actor: Alan Rickman
Actress: Helena Bonham Carter
Drink: Coke
Ulster Star
02/03/2012