Ryan Roberts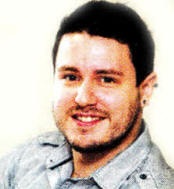 RYAN Roberts, 27,from Lisburn plays guitar in a band called 'Here be Dragons' as well as playing instrumental covers of pop songs at weddings. He recently completed a degree in English Literature and Language and has been doing work experience at the Ulster Star before applying for a journalism course.
What do you like doing on your day off?
If I'm not meeting up for rehearsals with the band in Belfast I will normally be learning new songs on the guitar or practicing the ones I already know. If I'm not doing that I like just chilling out by reading or catching up with stuff that I've recorded on Sky+.
If you were to choose your favourite meal what would it be, where and why?
It used to be honey chilli chicken from the Treasure Inn restaurant until that shut down but you would have to go far to beat the food out of the Beijing restaurant on the Bentrim road.
What has been your proudest moment?
Getting my degree in English Literature and Language from the Open University.
What was the most frightening moment of your life?
Getting kicked in the head whilst in a mosh pit at Slane a few years ago. I couldn't remember where I was or who I was with and started panicking for a few minutes. Luckily my cousin was with me and I came round after that.
How would you describe your taste in clothes?
Mainly retro, but I'm a bit of a hybrid dog of fashion so my outfits change depending on my mood that day. Sometimes I'll feel a bit rock and roll and other times I'm just as happy in tracksuit bottoms and a hoody.
What would you do if you won a million pounds?
Definitely take myself and a few mates away on holiday somewhere then buy a huge house and fill it with guitars and equipment that I would probably never use.
What was your most embarrassing moment?
Bending over and ripping my trousers in school one time. I had to give them to my form tutor to sew up whilst I had to wear these manky old shell-suit bottoms that were in the lost property bin. They looked like they had been in there a while.
What sports person do you most admire?
Despite his off the field antics, Ryan Giggs. He's been a great ambassador and loyal servant to Man United, something which is rare in football these days.
Describe your best ever holiday. What would your dream holiday be?
I went on a road-trip last year to England which was really good. Whitby is a great place. However, I'd love to go to New York because I've heard it's great and because I also want to do the 'Ghostbusters' city tour!
What is your greatest remaining ambition?
To go travelling round Europe.
If you could spend a day with a celebrity whom would you choose?
Keith Richards from the Rolling Stones would be a laugh. He's probably got loads of stories to tell, if he can remember them.
If you were stranded on a desert island what three things would you want with you?
A guitar, beer and a Bear Grylls survival manual.
Ulster Star
24/08/2012