Sandra Corken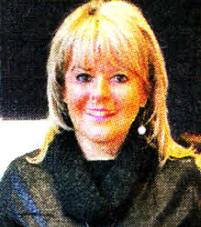 SANDRA Corkin, mother of one teenage son, is the owner and Managing Director of Oasis Travel which has branches in Lisburn, Belfast, Bangor and Holywood. She went straight into the travel industry at 16 after school and opened Oasis when she was 21 with the financial backing and moral support of her dad.
What do you like doing on your day off?
Shopping and going to the gym. I can't say that I really like the gym but I do try to maintain some level of fitness.
If you were to choose your favourite meal what would it be, where and why?
When I am traveling it would be In the Tuscan Restaurant on board Celebrity Cruises ship "Equinox" in the company of family or close friends. In Lisburn, Marano's is hard to beat.
What has been your proudest moment?
When Oasis Travel won top travel company in the UK. It made me feel immensely proud, not just of myself but of everyone who works with me.#
What was the most frightening moment of your life?
When my dad died. I had no idea how I was going to run the business without him.
How would you describe your taste in clothes?
I like well-cut clothes with clean lines and sensual shapes and I also love the glamour of 1950's - Audrey Hepburn, Grace Kelly. I love discovering new boutiques and I am always on the outlook for the next perfect dress. 'I tend to stay away from flowery or frilly outfits.
What would you do if you won a million pounds?
I would take a cruise around the world with my family. The break could be seen as investing in holiday research too.
What was your most embarrassing moment?
There have been too many to choose just one. With a teenager in the family you are not so much embarrassed but constantly embarrassing.
What music do you like?
An eclectic ,mix from classical current chart music and I'm extremely partial to the occasional 70's tune. Also I'll confess to being a huge George Michael fan and have seen every concert from his Wham days to his last orchestral concert in Dublin.
What sports person do you most admire?
David Walliams - I know he is a TV celeb but he is also an athlete who has raised amazing amounts of money for charity. Describe your best ever holiday.
What would your dream holiday be?
I love Africa and had an amazing trip to Botswana a few years ago. I also had two fantastic trips on the Oasis and Allure of the Seas which are the world's largest cruise ships. Unfortunately on most of my work trips I can't take my family. I would love to take my husband and son on a safari.
What is your greatest remaining ambition?
One would be to take my son when he is a bit older to help with an overseas project in a developing country. I think it is a good reminder of the privileged life that we live in.
If you could spend a day with a celebrity whom would you choose?
Ben Fogle - he certainly knows his way around the world and he would have fascinating experiences to talk about from walking the Sahara, to rowing the Atlantic to crossing Antarctica in a race to the South Pole.
If you were stranded on a desert island what three things would you want with you?
My i-phone, a wi-fi connection and mascara.
Favourite things
Film: Notting Hill
Comedian: Michael McIntyre
CD: Anything by George Michael
Book: The Atlas of the World
Actor: Tom Hanks
Actress: Julia Roberts
Drink: Pink Champagne
Ulster Star
27/01/2012