Stephen Ferris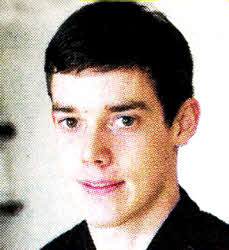 STEPHEN Ferris, 21 from Lisburn works in the Ballyrobin Country lodge. He recently graduated from SERC Lisburn campus with an NVQ level three in professional cookery. This course usually lasts two years but through his progress as a chef and the training provided by the college, Stephen completed it in one academic year.
What do you like doing on your day off?
On my days off I like a lie in, breakfast, gym then home, lunch and get ready for whatever my day has in store.
If you were to choose your favourite meal what would it be, where and why?
My favourite meal would be in an Italian called villa Italia on the Malone road, simply because someone is cooking for me for a change and my favourite food is Italian so I would order anything off the menu.
What has been your proudest moment?
The proudest moment of my career was when Ruth Doherty said "Congratulations Stephen, you are going to own your own restaurant one day and I will follow your career with admiration," I got butterfly's and knew I would have to make something off myself now.
What was the most frightening moment of your life?
The most frightening moment of my life was when I was rushed to hospital a year ago with a virus that was attacking my immune system and my muscles, I was bed ridden in a quarantined room for two weeks. The doctors took so many blood samples I thought I was a pin cushion. When they couldn't diagnose me that is when I became worried. When I left they still didn't know what was wrong with me. It took three months to recover and get back into work but looking back it give me time to think and to push further in my career.
How would you describe your taste In clothes?
I don't really have a taste I just wear whatever is comfortable.
What would you do if you won a million pounds?
I would buy my friend Conor a boat and invest the rest in a new car and property in Belfast.
What was your most embarrassing moment?
I have a few but they will remain repressed memories.
What music do you like?
I like a lot of hip-hop, grime and dubstep. Whatever I can dance too really.
What sports person do you most admire?
Lance Armstrong because he had cancer, fought it and came back to win numerous Tour De France races.
Describe your best ever holiday. What would your dream holiday be?
When I was in Paris in 1998 France won the world cup and Paris didn't sleep for three days, the place was mental and I was only 8 so I loved it. My dream holiday would be to tour Europe and taste the food that every country has to offer.
What is your greatest remaining ambition?
To become a known head chef and start my own restaurant one day.
If you were stranded on a desert island what three things would you want with you?
I would bring my girlfriend for the comic factor, sun cream cause I burn easy and vodka, cause then it's more like a holiday than being stranded.
Favourite things
Car: Dodge Viper
Film: Lucky Number Slevin
Comedian: Kevin Bridges
CD: Kanye West 808's and Heartbreak
Book: Heston Blumenthal 'The big fat duck cook book'
Actor: Mark Walhberg
Actress: Eva Longoria
Drink: Blackcurrant
Ulster Star
31/08/2012