Victoria Sanders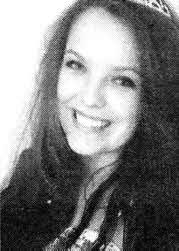 Victoria Sanders, 17, from Knockmore has made it through to the grand final of the Face of Northern Ireland 2012 competition and is excited about the finale which will take place later this summer in the Canal Court Hotel in Newry.
She is studying for her A-levels at Hunterhouse College and really enjoys Musical Theatre and is a member of Fusion Theatre.
What do you like doing on your day off?
On my day off I love to just chill with my friends and have a movie day with loads of munchies or sing at the top of our lungs to you tube videos.
If you were to choose your favorite meal what would it be, where and why?
Pizza and chips. From NYPD because it is really yummy.
What has been your proudest moment?
Probably getting my first principal role in Fusion Theatre, I was Christine Warner in The Boys In The Photograph.
What was the most frightening moment of your life?
Probably knowing my mum's only 5 minutes away and I still haven't tidied my room!
How would you describe your taste in clothes?
Very girly although I really like some quite edgy stuff too.
What would you do if you won a million pounds?
Go travelling, give to charity and my friends and family and put my mum in charge of it because she is a lot more sensible than I am.
What was your most embarrassing moment?
Probably falling flat on my face twice on the steps up to the stage in junior school.
What music do you like?
I will listen to absolutely anything although I love songs from the musicals the most.
What sports person do you most admire?
My dance teachers. They have so much patience and talent.
Describe your best ever holiday. What would your dream holiday be?
We went to Turkey the summer before last and it was amazing so we hope to go back this year, I just love the warm weather and the beach. My dream holiday would have to be a tour of America because I've heard so much about it and would love the chance to experience it for myself and maybe even bump into a few famous people.
What is your greatest remaining ambition?
To get a job I really enjoy and don't dread going to everyday.
If you could spend a day with a celebrity whom would you choose?
Andrew Lloyd Webber - hopefully he would write a musical for me.
If you were stranded on a desert island what three things would you want with you?
Fresh drinking water, my best friend Sarah because she always knows what to do and a speed boat.
Favourite things
Car: A pink mini
Film: I love the DVD of the Les Mis concert
Comedian: Alan Carr
CD: Taylor Swift
Book: The Last Song
Actor: Johnny Depp
Actress: Lea Michele
Drink: Chocolate milkshake
Ulster Star
06/07/2012