William Caulfield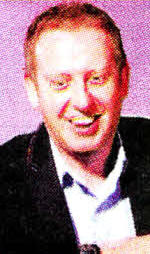 COMEDIAN William Caulfield will be in Lisburn with his 'One step forward. Two steps back' tour at the Island Hall on Saturday February 18 at 8pm. For more information visit: www.lisburncity.gov.uk or tel: 9250 9254.
What do you like doing on your day off?
I never have a day off as I'm a one man business and always trying to be creative. If I'm not working I'm working on my act but wouldn't have it any other way.
If you were to choose your favourite meal what would it be, where and why?
Something simple, home cooked and at home with friends and family.
What has been your proudest moment?
The obvious answer would be when my children were born but as that's a cop out I'd say it was when I got my first show on the BBC and some of my family were in the audience at the recordings.
What was the most frightening moment of your life?
Looking at myself this morning in the mirror!
How would you describe your taste in clothes?
Depends on what I'm doing so either smart casual or well tailored.
What would you do if you won a million pounds?
No one would know I'd won a million as I'd continue to do what I'm doing. I love my work.
What was your most embarrassing moment?
It's still to happen.
What music do you like?
I have a very wide taste in music. I'm not going to say eclectic but my taste spans all, Gospel, Classical, Pop, Country, Jazz etc but not dance or garage.
What sports person do you most admire?
Easy question- Lewis Hamilton followed close by Jenson Button.
Describe your best ever holiday?
Very hard question. When I do take a holiday it's usually a far away destination and each has its own merits so to be honest none could be awarded 'best'.
What would your dream holiday be?
To go to every race during a full Fl season. (on second thoughts.. where is than one million pound win?)
What is your greatest remaining ambition?
I have two. One to perform at the London Palladium and the second I'm already working on so just 'watch this space' as they say.
If you could spend a day with a celebrity who would you choose?
Lewis Hamilton on a race day.
If you were stranded on a desert island what three things would you want with you?
My iPhone, my daschund Charlie and some patience!
Favourite things
Car: Happy with what I have.
Film: Dead Poets Society.
Comedian: I hear some guy called William Caulfield is the one to see.
CD: Joe McElderry Classic or Adele's 21.
Book: Any Jack Reacher story by Lee Child.
Actor: Anthony Hopkins.
Actress: Helen Mirren.
Drink: Coke Zero
Ulster Star
10/02/2012