Royal British Legion Pensions Advice and Support
Case Studies
"With a war widows pension I now know I will be secure in my old age. I would never have been able to appeal without The Legion."
When 54-year-old Maureen Barrell's husband died suddenly of cancer on Christmas Day she was devastated. She also suspected his life would not hate been taken so suddenly had it not been for serious injuries he sustained during his 22 years serving in the army.
If this was the case, she would be entitled to a War Widow's Pension, given be the Government to help support the wises of men whose death is attributed to their time serving in the Armed Forces. Left so suddenly without her husband, a War Widow's Pension would help ensure Maureen was financially secure for the rest of her life.
Her husband Bryan was caught in an explosion while serving in Aden in the Sixties, Despite numerous broken bones he eventually recovered from the incident. But over the years the long term effects of such serious damage to his body started to become apparent and he eventually was in constant pain, 24 hours a day.
Bryan was diagnosed with a serious bone disorder, caused by his injuries from the explosion and medically discharged from the Army, Taking a range of strong drugs to manage the symptoms, Bryan set about helping Maureen with the book-keeping for the newsagents that she owns and runs herself. Tragically. Bryan suddenly became increasingly ill and within six weeks of being diagnosed with cancer. he was dead.
'I am sure that had it not been for the drugs Bryan was taking for his bone disorder, we would have been able to pick up the symptoms of his cancer a lot earlier, says Maureen. There is no doubt that he could have received treatment - and may, have been alive today. So I applied for a War Widow's Pension but was rejected by the War Pensions Agency. I felt sure they were wrong, but didn't know how to contest it. That's when I spoke to my local Legion branch:'
The branch put Maureen in touch with the Legion's Pensions Department. Experts assessed her situation and decided she had a sound case. As with all such cases. the Legion offered to represent Maureen free of charge at an appeal. Working with her. The Legion won the case and Maureen will now receive a War Widow's Pension.
Winning the appeal means so much to me." adds Maureen. "With a War Widow's Pension I now know I will be secure in my old age. I also feel that Bryan's life and contribution to his country have been recognised. I would never have been able to appeal without The Legion and I'm extremely grateful for their help. l don't know what I would hay a done without it."
In 2000, money raised by the Poppy Appeal helped The Legion to provide free representation for some 6.000 people like Maureen in War and War Widow's Pension appeals.
Case Studies: Legion Homes
"IF I hadn't moved to Lister House, I think I would be dead by now. Moving to the home made my battle for survival possible:' Eighty-year-old Colin Macklin from York served in the Royal Artillery and the Special Forces during World War Two. His time in the Forces took him to India, Iraq, Syria, Egypt. Greece and many other places. But now he is enjoying his later Years in Lister House, one of The Legion's nursing and residential care homes in Ripon, North Yorkshire.
When Colin had a serious stroke he decided to move from the three-bedroom house, where he lived on his own, to Lister House. Thanks to the specialist support he has received since moving, there is very little evidence to show the stroke has affected his life at all.
"Living on my own was not good for me. After the stroke, my doctor - a personal friend of mine - refused to let me go into a flu-ridden hospital. He arranged home visits and treatment, which helped for a while. However, moving into Lister was fantastic. If I hadn't moved to Lister House, I think I would be dead by now. Moving to the home made my battle for survival possible."
Colin has benefited enormously from the excellent facilities and support of trained nurses and carers at Lister House. He has managed to get rid of the wheelchair and walking frame he needed after his stroke and boasts about his stamina on the exercise bike in the physiotherapy department of the home. And as a classical music enthusiast, he cheekily talks of Wagner's Rhine maidens who lured the sailors onto the rocks when referring to this own experience of being lowered into the hydrotherapy pool at the home.
Lister House is one of The Legion's seven residential and care homes in Yorkshire, Warwickshire, Norfolk, Somerset. Kent. Sussex and mid-Wales. It provides a unique Service in the region, offering a range of support from residential and day care services to rehabilitation, physiotherapy bereavement counselling, aromatherapy and specialist nursing for people with dementia or who are terminally ill.
Vital funds raised by the Poppy Appeal will enable The Legion to support more ex-Service men and women like Colin, who have given so much for their country, when they need us most.
Case Studies: Remembrance Travel "Because I never really knew my father, the trips to his grave are like visiting him. His grave is all I have got."
Sixty-eight-year-old Myra Oddy, a pensioner from Exeter, has been visiting her father's grave through The Legion's Remembrance Travel Initiative since 1985.
Her father, Matthews, was a Sergeant in the RAF when he was killed in action in 1944. Myra was only 10 years old at the time and so has only vague memories of the man in an Air Force uniform that was her dad. Nevertheless, she is very proud of him - so proud that she makes these pilgrimages annually without fail.
"It wasn't until the eighties that I found out me father was buried in the Reischswald Forest cemetery in Germany says Myra. 'As soon as I knew. I got in touch with The Legion,"
"Since then my visits to his grave have meant a great deal to me. It's hard to explain, but because I never really knew my father the trips are like visiting him. His grave is all I've got."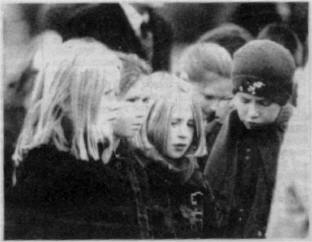 Every other year Myra's daughter, who is 30, also accompanies her to Germany. She is one of many people of younger generations who decide to pay their respects to grandparents and other family members who lost their lives in conflict overseas through Remembrance Travel.
The Legion's expert guides have also enabled Myra and her daughter to learn more about the history of Reischswald Forest Cemetery and Bomber Command, which her father served in.
Since it was established in 1985. the Legion's pilgrimages department - now known as Remembrance Travel - has taken thousands of people on visits to war graves and battlefields. The trips are open to anyone wishing to commemorate ex-Service men and women who died for their country, many miles from home.