Old Lisburn War Memorial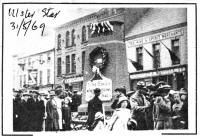 More information has come to light on the old film mentioned in last week's issue about the War Memorial in Market Square.
Mr. John Chapman, the Castle Street chemist, who takes a keen interest in historical matters, has been speaking to several of the older residents of the town and one of them remembers the memorial when he vas a boy.
The memorial apparently was a temporary one made from wood and plaster and the ceremony shown in the film must have taken place in 1919 or prior to August 1920.
Mr. Chapman has had a print taken from the film and we are pleased to publish it. It, shows the memorial with wreaths on it and buildings in Market square are easily recognisable.
FACTORY Donaghy's boot and shoe factory seen in the picture was burned clown during the troubles in late 1920. Also seen is Connor's furniture Shop.
The buildings in the picture are between the Star office and Stewart's stores.
THE OLD WAR MEMORIAL -- NOW BUILDER SPOTLIGHTED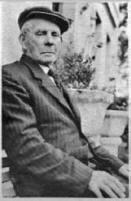 News of the memorial which has caused much conversation in the past week came this week from its builder, Mr. David Pattison, 88, of Alberta, Hillsborough Old Road.
Mr. Pattison confirms that it was a three tier structure made by himself and an apprentice in the yard of his employers Bullock and Sons, Railway Street about 1919.
DESIGN
Assisting the firm of Bullock and Sons in the design of the memorial was Mr. Cecil Webb then headmaster ' of Lisburn Technical College. He was the father of Mr. Anthony Webb, former Borough Surveyor of Lisburn.
The mystery of the memorial arose after a film of the unveiling ceremony was purchased in Smithfield, Belfast, by Mr. Robert Miller of 1 Stannus Place, Lisburn.
Local chemist Mr. John Chapman took a print from the old film which appeared in last week's 'Star.'