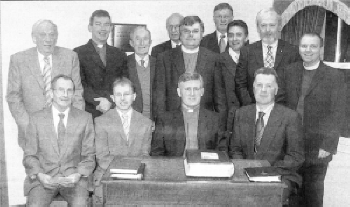 Seated in front row (left to right):
Geo Quin (Session Clerk) James Moore,
Rev Bobby Liddle (Moderator),
Andrew Addison. US47-776SP
LAST Sunday Evening two additional Elders were ordained in Ballinderry Presbyterian Church.
The two new elders are Andrew Addison and lames Moore.
A good congregation was present at the service which was led by the Moderator of the Dromore Presbytery, the Rev Bobby Liddle.
Within the Presbyterian Church it is customary at services like this to have an explanation of what an elder is and indeed why have them in the first place, this was ably done by Rev Angus McCullough and the sermon preached later in the evening by the Rev Howard Gilpin.
The congregation's choir led the worship assisted by George Ellis