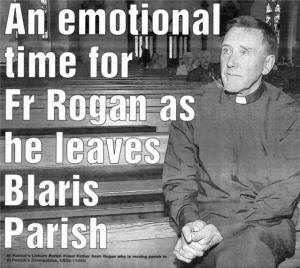 LISBURN'S Parish Priest Rev Fr Sean Rogan will `return back home' as he puts it when he leaves Blaris Parish for Downpatrick on August 17.
Fr Rogan (66) will return to the parish of his child-hood where he was brought up and served as a priest in the early 70's.
He will succeed Fr Brendan Murray who is due to retire because of ill health.
His successor in Lisburn will be Fr Hugh Kennedy from the Sacred Heart Church in Belfast.
Fr Rogan has been a priest for 43 years. He was ordained at the age of 23 in 1962 and said he made his life changing choice of vocation because he was impressed by the kindness and goodness of the clergy.
He has served in 11 different parishes throughout the Diocese of Down and Connor which takes in parts of Counties Antrim, Down and Derry.
He has served in all three counties at some stage beginning at St Mary's in Belfast's Chapel Lane.
He then moved to Ardglass for just one month before going to St Teresa's on Belfast's Glen Road where he stayed for two years.
He then moved to Saintfield for six and a half years before going to Downpatrick where he remained from 1971 to 1977.
The next five years were spent in Twinbrook. Fr Rogan then went to Antrim for four years, Larne for five years and Coleraine for eight years before arriving in Lisburn.
He has since served in Antrim for four years, five years in Larne and then eight years in Coleraine before coming to Lisburn where he succeeded Canon Joseph Cunningham.
He told the Star he felt honoured to have served in the parish and admitted leaving will be an emotional experience.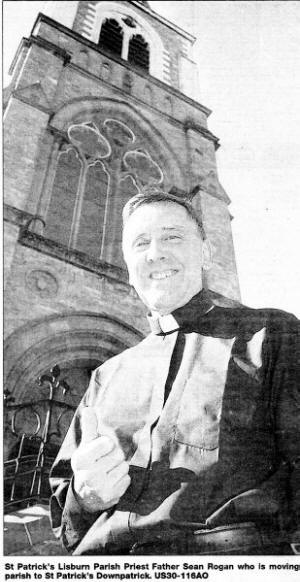 "I will leave Lisburn with plenty of fond and happy memories," he said. "I will particularly remember the kindness of all the parishioners whose friendship and advice I have appreciated.
"I would also like to thank all my colleagues from other churches for their kindness and co-operation especially those from the town centre group of ministers with whom I had a particular friendship.
"We met every month in each others' houses where we arranged many things that we had in common including the carrying of the cross at Easter and Christmas events."
Fr Rogan was first told that he was moving last Thursday when he got a call from the Bishop Most Rev Patrick Walsh.
Fr Rogan said he views the move as an honour and said it will be a privilege to take over from Canon Murray. "I was a little bit surprised but it is indeed an honour to be asked," he said.
"I knew Fr Murray was retiring but it was felt that someone else would take over as parish priest."
Fr Rogan said he is looking forward to returning to Downpatrick.
He said that in ecclesiastical terms he views the move as significant because St Patrick first served his ministry in the town in 432AD.
Testing
When Fr Rogan first moved to Lisburn in 1998 he faced a testing time.
He had only been in the parish a month when St Joseph's Church in Magheragall was destroyed in an arson attack during the Drumcree Crisis.
He also had a difficult task during much needed work at St Patrick's Church in Chapel Hill.
He had to re-adjust and replace many items in the church which had not been re-organised for 100 years. Fr Rogan did not want to take away from the beauty of the church but wanted to develop and modernise much of it without destroying many of the original items.
After the work was completed a rededication service at the church was held in 2000.
He said that he had nothing but praise for all the parishioners during that time.
"People in the parish responded magnificently during 'that time and were willing to undertake anything which would help to enhance the beauty of the church which helped to proclaim Christ's Kingdom," he said.
He also thanked all those who worked alongside him closely during the seven years he was there.
"I would like to express my gratitude to all my colleagues and wish them well in the years that now follow," he said.
"I would also like to thank my fellow priests in particular Fr Eammonn McGarrion. He has been a great inspiration and help to me over these years."
Fr Rogan also thanked the many parishioners who helped him throughout his stay in Lisburn.
One of the most cherished memories he holds is of a recent event - a service held to mark the 200th anniversary of St Colman's at Reilly's Trench near Hillsborough.
Another happy memory was being asked by former mayor Betty Campbell to serve as chaplain during her time in office.
He also has happy memories of the building and opening of the Lagan Valley Island Civic Centre.
"The saddest time was when the boy James McMahon was killed in the town which brought such revulsion within the community," he said.
Father Rogan said he hoped people will continue to be united in Lisburn. "Lisburn is a City for Everyone and it would be my wish that all citizens of Lisburn, irrespective of political, religious, or ethnic affiliation will help to build on a city of unity especially in these days when Lisburn has seen many people from ethnic back-grounds - India, Poland Lithuania Phillipines and other countries - who have come to live in Lisburn."
Fr Rogan said he wished Fr Hugh Kennedy a Doctor of Divinity and expert in Sacred Liturgy, the best in the future.
"I wish him well in the city and parish which I have been very proud to serve and in which I have had so many happy times," he said.
He also said as he leaves he will remember a Latin motto on the back of a medal of the patron Saint of Europe, St Benedict which says 'May the Holy Cross be a Light to Me and Never the Devil be My leader'.
He said as he leaves he will also seek comfort from the words of the former Pope John Paul II 'Look for Jesus, Love Jesus and Give Witness to Jesus.'
Ulster Star
29/07/2005