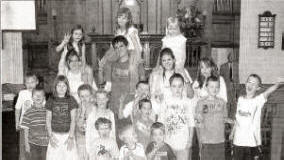 DURING the children's spot at a service in Railway Street Presbyterian Church las Sunday, four young leaders, Jamie and Jordan Humphries, Emma Cochrane and Lauren Mulholland, recalled a fun-packed week at Railway Street's Holiday Bible Club called 'Heatwave'. Led by Jamie and Jordan Humphries, the congregation joined the children in singing the 'Heatwave' theme song. Emma Cochrane familiarised every-on with the week's memory verses and Lauren Mulholland give a brief overview of the 'Heatwave' programme, which included Bible Stories, quizzes, games, singing, drama, craft, group work, aerobics and much more.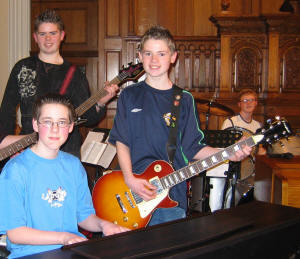 The club was held from Monday August 1 to Friday August 5 at 10.30am to 12.30pm for children of primary school age. Led by Deepak Samson and Louise Clarke, the team of young leaders were Jamie Humphries, Jordon Humphries, Emma Cochrane, Lauren Mulholland, Emma Hughes, Alan Wall, Peter McKibben, Adam Woods, Steven Woods, Rowan Davidson, Jonathan Davidson and Philip Hutchinson.
Looking back on the week Jamie Humphries commented: "The week was a great success, with around fifty excited children attending each day. "All who attended had a great time and went away hopefully having learned something more about Jesus. "The whole team and all the kids are thoroughly looking forward to another week of fun at next year's Holiday Bible Club."
Ulster Star
12/08/2005