Julie sets off on mission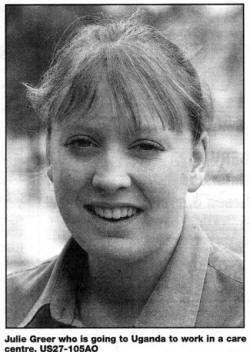 LISBURN Institute student, Julie Greer, will soon be boarding a flight for Africa, where she will be spending the summer working in a care centre in Uganda.
Julie, who is studying child-care at the local college, will be part of a team from the UK going to work with street children at a care centre in the East African country with the Christian organisation African Inland Mission.
Speaking about her decision to travel to Uganda, Julie said: "I was supposed to be going to Florida this summer but I felt that the Lord was looking for me to do something else.
"I was at a missionary evening at Belfast Bible College and I got talking to a guy from the charity. I went home and thought about it and decided that was where I had to be."
Julie will be leaving, together with one other girl from Northern Ireland, on July 20 and will be spending three days training in London before leaving for Uganda, where she will work with local street children until the end of August.
Julie's friends, family, colleagues and church have been helping her to raise the money she needs for the visit and she is very grateful to everyone for their help.
"My mum sold her horse and I got money from that. People from my church, Lisburn Baptist, and friends have given me money, which will be going to the care centre.
"I work part-time in McDonalds and they have been very good about giving me the time off to go. They also did a sponsored silence to raise money and some of my friends held a social as well.
"Lisburn Baptist Church have also been saying prayers for me, which I really appreciate."
Looking forward to her experience in Uganda, Julie commented: "I am a little apprehensive because I don't know what to expect. I'm going as part of a team but I don't know any-one else in the team.
"I have briefly met the girl from Northern Ireland and I'm hoping we'll meet up again before we leave. "I am going with an open mind to see how it goes.
"I am doing a childcare course at college and this is very relevant. That is what I will be doing out there.
"When I finish college I will see what happens and I may go out to Uganda again for a year."
Julie concluded by thanking every-one who has helped and supported her as she prepares for the experience of a lifetime.
"I would like to thank McDonalds for giving me six weeks off work and I am thankful to them for giving me the flexibility to get time off to go to meetings.
"I also want to thank my friends, family and everyone in the church for all of their support."