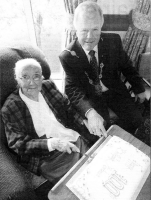 Rebecca Kingston cuts her 100th birthday cake with Lisburn Mayor Trevor Lunn at Lisadian House.
US39-126A0 Pic By: Aidan O'Reilly
A HILLSBOROUGH resident celebrated her 100th birthday this week.
Miss Rebecca Kingston, who resides at Lisadian House Nursing Home, was treated to a special birthday celebration and Lisburn Mayor, Councillor Trevor Lunn went along to pay his regards.
Rebecca was born on a farm in Drimoleague, Co Cork, the eighth of 13 children.
"We had our own brown flour, potatoes, cabbage, milk, cream and butter on the farm," said Rebecca." My father was Samuel Kingston and I was named after my mother Rebecca who was a Kingston even before she was married.
"When I went to school, every child at Meenies National school was a Kingston. All Kingstons in West Cork go back to Col. Samuel Kingston," she added.
After leaving school Rebecca worked at 'The Corner House' - a drapery store in Skibbereen. When she was 26 she left Drimoleague to go to the Faith Mission Bible College in Edinburgh.
"I worked initially as a Faith Mission Pilgrim in Co. Carlow then continued in this service for a total of 34 years in the country districts of Ireland, retiring at 60 years of age in 1966," explained Rebecca.
After retiring she lived with her two sisters Margaret and Fan in their home in Chester Park in Bangor. After spending time in hospital Rebecca needed a Home that provided nursing care so she came to Lisadian in December 2005.
"I have been enjoying my time here," said Rebecca.
The birthday girl said she felt honoured to receive a letter of congratulations from the Queen and one from Mary McAleese, the President of Ireland.
"I have experienced the Lord's love and provision for 100 years now and continue to pray that many will put their trust in Him," she added.