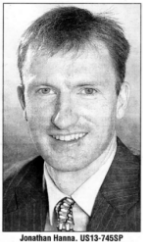 HILLSBOROUGH Parish Church was full to overflowing last Friday afternoon as friends and family gathered to say farewell to local man Jonathan Hanna on what would have been his 35th birthday.
Jonathan, who was one of Northern Ireland's leading public relations executives, passed away while on holiday in Spain.
He is survived by his wife Julia, son Stephen, sister Judith and parents Anne and Gordon.
An employee of Ofcom, Jonathan had been suffering from cancer and had just completed an intensive five week daily cycle of radiotherapy.
The Director of Ofcom Northern Ireland Denis Wolinski described him as "a very valued colleague who really knew his stuff.
"He was absolutely dependable and professional in everything he did," he added. "But more than that, to all of us who worked with him, he was warm, outgoing and had a wonderful sense of humour. We're going to miss him very much."
Mr. Hanna was a former Managing Director of the Anderson Spratt Group. "Jonathan's courage and spirit in recent weeks and months in the face of debilitating illness were both inspirational and deeply humbling," said Group Managing Director Peter Spratt. "In an industry often associated with cut and thrust and a fierce competitiveness it's not every day you are going to meet someone who is talented, kind, funny, sensitive and very media savvy. Jonathan Hanna was all of these things and more."
GCAS Public Relations Director Michael Rafferty, a close friend and family colleague said: "He was unbelievably brave and dignified to the very end even in our most recent phone conversations. I'm going to miss Jonathan a great deal."
Former PR colleague and friend Orla McKibben said she would always remember his fantastic sense of humour which shone through no matter what the situation.
"His courage in dealing with cancer and Julia and his family's strength and support throughout his illness were an inspiration to all," she added.
"It was a privilege to know Jonathan. He was a great guy to work with but more importantly a true friend who touched many heart during his short time here."
Jonathan Hanna was educated at Wallace High School and was a graduate of economics and politics from Queens University.
He was an enthusiastic bell ringer and a member of Hillsborough Parish Church's all-Ireland winning team. He had many diverse interests but a particular passion for history and sport, being an authority on Sir Winston Churchill and an avid supporter of European Champions Liverpool.
After the funeral on Friday, Jonathan was buried in the graveyard adjoining Hillsborough Parish Church.
Ulster Star
31/03/2006