ALSO - 74 church members attend morning worship in Rathlin Island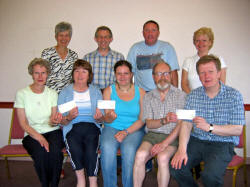 Pictured at the presentation of cheques at Magheragall Parish Church on Saturday 10th June is: L to R: (front) Elizabeth Park, Gerardine Tolerton, Kerri Cunningham, and the Rector, the Rev Nicholas Dark. (back row) Gill Colvin, Ian Park, Bobby Cunningham and Sharon Cunningham.
On Saturday 10th June, Magheragall members presented proceeds from a recent Car Boot Sale to support the work of Magheragall Parish Church and also missionary outreach work by two church members - Grace Park who is currently in Brazil working with Tear Fund; and Kerri Cunningham who is going to Kenya on 10th July with the Church Missionary Society (CMS).
Magheragall Rector takes service in Rathlin

The Rev Nicholas Dark and members of the congregation of Magheragall Parish Church pictured at St Thomas, Rathlin, on Sunday 11th June.
The Rambling Club also organised a Day Out to Rathlin Island on Sunday 11th June, when 74 members of the congregation attended morning service in St Thomas, Rathlin, taken by the Magheragall Rector, the Rev Nicholas Dark. Alex Wylie, a spokesman for the Ramblers said, �Three walks were organised covering routes to all three lighthouses including the bird sanctuary. It was a wonderful day out, blessed with a Church Service, great weather and a cool breeze resulting in well tanned and sunburnt faces.�