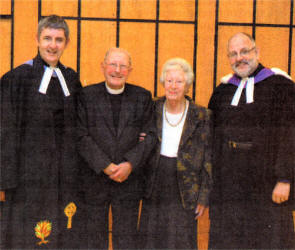 Rev. Charles McMullen, Rev. Harold Gray, Mrs. Jean Gray and Rev. David Knox.
THE congregation of Harmony Hill Presbyterian Church hosted an anniversary service on Sunday to mark the 50th ordination of their Senior Minister, the Rev. Harold Gray.
Current Minister the Rev. David Knox welcomed family and friends to the service including Rev. Charles McMullen from West Church in Bangor.
The evening hymns were all chosen by Rev. Gray and the choir, under the leadership of Rev. Karen Campbell, sang the anthem 'Wonderful Grace'.
Rev. McMullen spoke of his fond memories of his time at Harmony Hill under Rev. Gray's direction and how the clarity of his teaching prepared him to serve 'with the help of the Holy Spirit'.
During tea which followed the service ex Clerk of Session Mr. Clifford Boyd led speakers from Rev. Gray's former congregations.
Rev. Gray was ordained in October 1956 and took up the charge at Newmills in Co. Tyrone which four years later joined with the Garland congregation.
In September 1969 he and his family moved to Woodvale Presbyterian Church were he put his Christian spirit into action during very troubled times.
The call to Harmony Hill came seven years later and he remained there until his retirement in 1992.
New Clerk of Session Mr. Derek Alexander spoke of Rev. Gray's forward thinking and presented him with a cheque to mark the occasion.
Rev. Gray then spoke of his memories of the past 50 years and reminisced with stories from all his congregations. He thanked Rev. McMullen and Rev. Knox and his wife Heather for their love and friendship over the years. Most of all, he said, he thanked God for guiding him by the Grace of the Holy Spirit.
The evening concluded with the saying of the Grace and Rev. and Mrs. Gray greeted old friends who attended the event.
Ulster star
20/10/2004