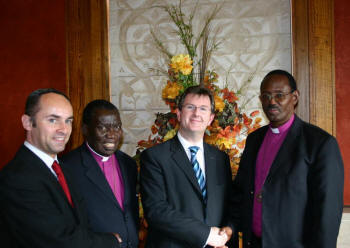 L to R: Mr Alex Easton MLA, The Most Revd Fidele Dirokpa (DR Congo), Mr Jeffrey Donaldson MLA MP and the Most Revd Bernard Ntahoturi (Burundi).
Following the official opening of CMS Ireland's new Belfast premises, the organization held a major mission conference and celebration - mbrace - in the Armagh City Hotel on Friday 28th September. The event was preceded by three regional mission focus evenings in Belfast and Dublin. Delegates from most of the countries in which CMS Ireland has partner links travelled to Northern Ireland for the special event.
During the week leading up to the main event, the North Down MLA, Alex Easton, hosted a CMS Conference Group at Stormont. The group was welcomed to Stormont by Mr Jeffrey Donaldson MLA MP. In addressing the group Mr Donaldson said that many of the Churches represented were enduring situations of conflict and he expressed his wish that they would find cause for hope in their visit to Northern Ireland.
29/09/2007