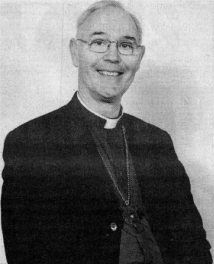 LESS than five years after being enthroned as Bishop of Connor at Lisburn Cathedral the Right Rev Alan Harper has been elected Archbishop of Armagh and Primate of All Ireland by the House of Bishops of the Church of Ireland.
His appointment was announced by the Archbishop of Dublin, the Most Reverend Dr. John Neill who described Bishop Harper as 'a man of deep faith, great ability and pastoral insight'.
Dr. Neill said it gave him great personal delight to make the announcement and added he and all the Bishops were looking forward to "working in partnership with Alan and under his leadership.
"I am certain he is the person that we were guided by the Holy Spirit to elect to this office. He will represent the Church of Ireland in situations in Ireland and beyond with great courage and clarity, and it will be a joy to work with him," he added.
The Primate-elect, who is married to Helen, said he was "deeply humbled and honoured by the trust placed in him by his colleagues. ' I pray that God will guide me in fulfilling the responsibilities of the role of Archbishop of Armagh. I am conscious of the privilege of serving the Church in this role," he said. "I look forward to meeting the people of my new diocese and those members of the Church throughout the island of Ireland. "As I look forward, I also express sincere gratitude to the clergy and people of the diocese of Connor, where I have served for 22 years, the last six years as Bishop.
"They have nurtured me and welcomed me and my family into their homes and parishes, sharing both joys and sorrows."
The Catholic Bishop of Down and Connor Right Reverend Dr. Patrick Walsh offered his "sincere and prayerful best wishes to Bishop Harper and his wife.
"His spiritual and pastoral qualities with his wide experience as Bishop of Connor make him a most fitting choice for the new responsibilities which will be his as he assumes the leadership of the Church of Ireland, a leadership which he will exercise with that thoughtfulness and humanity which marked his Episcopal ministry during his years in Connor," Dr. Walsh added.
The new Archbishop was born in Tamworth on March 20 1944. He was educated at Moorgate County Primary School, and then The Grammar School of Queen Elizabeth, Queen of England, Tamworth, Staffordshire.
He studied Geography at Leeds University being awarded a BA Hons in 1965.
During the academic year 1965/66 he was University Map Curator and Departmental Librarian in the Department of Geography at the university.
In July 1966 he was appointed a member of the Archaeological Survey of Northern Ireland (subsequently the Historic Monuments Inspectorate) as Field Officer and subsequently Senior Inspector of Historic Monuments.
In 1974 he took up a post as Principal Assistant Planning Officer (Archaeology and Environment) in the Planning Department of Staffordshire County Council before entering the University of Dublin (Trinity College) in 1975 to study for the Testimonium in Divinity, awarded in 1978.
Bishop Harper was ordained deacon in 1978 and priested in 1979.
He began his ministry in Northern Ireland undertaking his curacy at Ballywillan in Connor diocese from 1978-1980.
In 1980 he moved to Derry diocese to be incumbent of Moville and then became incumbent of Christ Church in the Maiden City from 1982-1986.
He became incumbent of the Parish of Malone in 1986 where he remained until 2002.
During this time he was also appointed Examining Chaplain to the Bishop of Connor (1986-2002), Rural Dean of South Belfast (19891996), Prebendary of St Audoen, St Patrick's Cathedral, Dublin (1990-2001) and Director of Post Ordination Training (1990-2001).
From 1999-2002 he was also Archdeacon of Connor and Precentor of St Anne's Cathedral, Belfast.
Meeting on December 17 2001, the Episcopal Electoral College elected him Bishop of Connor in succession to Bishop James Moore.
He was consecrated on March 18 2002 in St Anne's Cathedral, Belfast.
His enthronement took place in Christ Church Cathedral, Lisburn several weeks later on April 25.
The House of Bishops decided this week his election as Archbishop would take effect from February 2.
12/01/2007