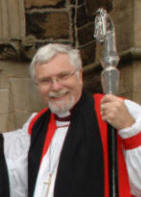 The 'Bishop's Bible Week' organised by The Right Revd Harold Miller, Bishop of Down & Dromore, will be held in St Saviour's Church, Dollingstown on Tuesday 28th to Friday 31st August at 8.00pm each evening. The Revd Ed Vaughan, rector of Crinken parish will be the speaker. Ed, who will have a different theme each evening, will speak on the following topics:
Tuesday 28th August The joy and fear of the Lord (2 Samuel 1-6)
Wednesday 29th August The everlasting king (2 Samuel 7)
Thursday 30th August The king falls (2 Samuel 9-12)
Friday 31st August The price (2 Samuel 13-18).
This is intended to be a week of encouragement from God's Word at the beginning of a new season in the church. All are welcome, especially those involved in the day-to-day life and ministry of the parishes in the diocese.
Directions:
St Saviour's Church is situated on the main Belfast-Lurgan road, through Dollingstown (A3), opposite the car showroom.
28/07/2007