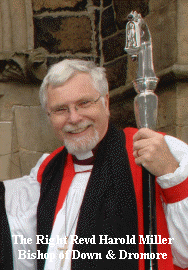 This year, for the first time, a Bishop's Bible Week will be held from Tuesday 28th to Friday 31st August in St Saviour's, Dollingstown at 8.00pm. St Saviour's is the newest church in the Church of Ireland Diocese of Down & Dromore and this will be an ideal opportunity for people to see inside the new building. The theme for the Bible Week is 'Looking on the heart' and the speaker will be the Revd Ed Vaughan, from Crinken Church, Bray. Before coming to Ireland Ed, who is Australian, was involved in a church-planting ministry in Sydney.
Ed's topics for the four evenings are:
| | |
| --- | --- |
| Tuesday | The joy and fear of the Lord (2 Samuel 1-6) |
| Wednesday | The everlasting king (2 Samuel 7) |
| Thursday | The king falls (2 Samuel 9-12) |
| Friday | The price (2 Samuel 13-18) |
Speaking ahead of his Bible Week the Right Revd Harold Miller, Bishop of Down & Dromore, said, 'The 'real' beginning of the Church Year in parishes is September! People have returned from their holidays, children's work is up and running, organisations have started up again, and there is a sense of buzz about what God will do among us over the coming months. However, in the end of the day, it is not just good organisation which grows and develops churches, but people with a real heart for God and for others. That is especially the case with leaders - in music; in serving; in children's and youth work; in the Mothers' Union, on the Select Vestry, etc'.
| | |
| --- | --- |
| | |
| Revd Ed Vaughan | Cracked Pot Puppets |
The Bishop's Bible Week is intended to be four evenings of encouragement as parishes prepare for the year ahead - encouragement from the Word of God speaking into our lives; encouragement in worship; and encouragement in simply being together. The worship and atmosphere at the Bishop's Bible Week will be informal with nightly appearances by the 'Cracked Pot Puppet Team from Holywood'; well known local people will be doing Bible readings; Alison Cadden from Seagoe Parish and her music group will perform songs and lead the singing with Nicola Cowan, Karen Bowden and Clara Costly as the soloists; and the Big Blue Sky Christian drama company will also be taking part.

In issuing a general invitation Bishop Harold said, 'Don't miss it! - I'll be there to welcome you each evening at the Bible Week in Dollingstown and my prayer is that God, who will certainly be there, will bless us abundantly.'

Directions:
St Saviour's Church is situated on the main Belfast-Lurgan road, through Dollingstown (A3), opposite the car showroom.

02/08/2007