Classical treat for music lovers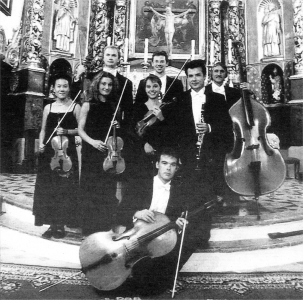 Cologne New Philharmonic Chamber Orchestra
THERE will be a treat for lovers of classical music as St Mark's in Lisburn welcomes the Cologne New Philharmonic Chamber Orchestra to the church for a special concert on Tuesday August 7 at 8pm.
On the night the orchestra will be performing Vivaldi's The Four Seasons, Concerto in G Major for Flute and Orchestra by Mozart and Tchaikovski's 'Souvenir de Florence', with soloists Gemma Corales on flute and violinist Susanna Gregorian.
Founded in 1972, the Cologne New Philharmonic Orchestra is the only completely independent orchestra in German, which has been enchanting audiences for more than thirty years with its electrifying music.
It is as its core a professional chamber orchestra that is expanded to a symphony orchestra several times a year.
Its membership is mainly composed of graduates of the most important German conservatories who, upon finishing their studies, wish to experience the reality of a practical musical life playing chamber music and symphonic ,repertoire at a high level before furthering their careers as soloists or as members of full-time professional orchestras.
Inspire
The aim of the orchestra is to inspire people who may not necessarily have come into contact with classical music before.
With this in mind the group has, over the years, developed its own highly individual style of interpretation.
This is engaging and direct while still remaining true to the intentions of the composer.
Tickets for the concert will be available from St Marks Church on the evening of the concert (August 7) from 7pm.
27/07/2007