| | |
| --- | --- |
| | |
| Pictured at a Community Service in Elmwood Presbyterian Church last Sunday morning are L to R: Mark Noble - Clerk of Session, Rev Andrew Thompson, Mrs Donna Thompson, Mrs Laureen Lunn - Mayoress, Councillor Trevor Lunn - Mayor, Peter McKechnie - Organist and Paul Stobo - Lisburn District Commander (NIFRS). | At the BBQ are L to R: Mark Noble, Natalie Ward, David Graham and Colin Ward who served over 300 burgers at the Fun Day at Elmwood Presbyterian Church last Saturday afternoon. |
The second Annual Community Weekend was held at Elmwood Presbyterian Church last Saturday and Sunday. A Fun Day held in the grounds of the church on Saturday afternoon featured fun attractions for all the family including bouncy castles, face painting, hair braiding and games.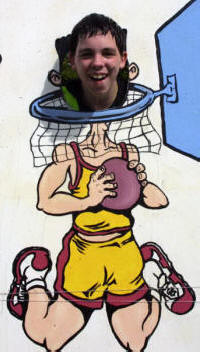 On Sunday morning several community representatives and many involved in local community life, including the Mayor - Councillor Trevor Lunn, attended a special community service in the church. The minister, the Rev Andrew Thompson led the service and the Mayor read the Scripture lesson and brought the greetings of Lisburn City Council.
Peter McKechnie and the worship team led the praise, which aptly included 'Bind us together Lord'. Tom Ward showed an excellent video presentation of the Fun Day; Zoe Bruce (a teacher at Ballymacash P.S.), Kim Harshaw and Steve Auld led prayers for the community; and David McKechnie and Matt Jess gave an overview of forthcoming outreach work in the Republic of Ireland and Romania.
In an inspirational address, Mr Thompson (an ardent Liverpool supporter) shocked the congregation by removing his clerical collar and shirt to reveal a Manchester United top. Referring to the football anthem 'Glory Glory Man United' he described this as a perfect summary of the 'Good News', saying that to bring 'Glory' to God was the main reason why mankind was created. We do this only when 'Man is United to God through Christ and people are united to one another in Christ'. Mr Thompson further stated, 'We in Elmwood passionately believe that the most urgent need of people in this city and our greatest hope for a truly united community is for men, women and young people to be united with God and one another in Jesus to the Glory of God'.
Tea and coffee was served after the service providing the opportunity for people from the whole Ballymacash community and beyond to meet, chat and make new friends.

28/05/2007