A series of four special meetings with guest speaker Dr Alec Passmore (Preston) will be held on Saturday 1st to Tuesday 4th December in the Christian Worker's Union Hall, Lisburn at 8.00pm each evening.
Brother Alec Passmore has conducted Gospel Campaigns and Bible Teaching ministry across Northern Ireland for almost 40 years. He has a special feeling and place in his heart for the Ulster people. Alec works with all ages and lectures regularly to 200 plus students at Capernwray Bible School in Lancashire, England, near where he lives with his wife Joyce. Alec is founder and Director of Balkan Vision (Eastern Europe) visiting and ministering already this year in Ukraine, Moldova, Romania and Bulgaria.
The Bible message of the imminent return of Christ has been his special study and theme for many years. He believes the certain nearness of the Saviour's return is an urgent 'wake-up call' which is much needed and neglected in the Church today. Dr Passmore will speak on the coming crisis - how close are we' Special subjects will include: The blessed hope of Christ's return; Global warming' - Global warning - Global control coming; The believer's breathtaking future - but what of those left behind' - How to be saved!; Coming soon - Earth's final war and how Jesus Christ will win it.
Special singers each evening will be: Saturday - Dr John McCandless, Lisburn; Sunday - Watchmen Group, Donacloney; Monday - McBride Sisters, Lisburn; Tuesday - Mrs Christine McCormick, Saintfield.
Everyone is warmly invited to attend this series of meetings, please come and bring a friend.
Special Meetings in Lisburn CWU Hall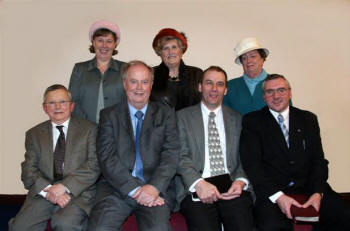 Pictured at the last of a series of four Special Meetings held in the Christian Worker's Union Hall, Lisburn on Saturday 1st to Tuesday 4th December are L to R: (seated) Joseph Lockhart (CWU Secretary), Dr Alec Passmore (Guest Speaker), Rev Albert Griffith (CWU Honorary Vice President) and Fred Jamieson (Church of the Nazarene). (back row) Mrs Christine McCormick (Guest Singer), Mrs Dorothy Smyth (Pianist) and Miss Elizabeth Campbell (Accompanist).
26/11/2007