by JULIE SPENCE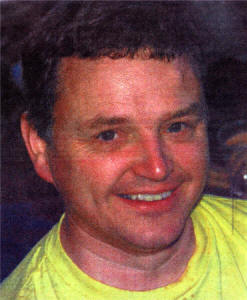 Gary Morrow, at a Church Children's Club event last year.
TRIBUTES have been paid to father of two Gary Morrow from Moira who died following a traffic collision in the village on Saturday.
Mr Morrow (43) died when his motorcycle was involved in an incident with another motorcycle and van on the Hillsborough Road on Saturday just after 4pm.
Mr Morrow's funeral was held on Wednesday morning at Moira Baptist Church, where he was a Deacon of the church.
Church Elder, Adrian Patterson, spoke warmly of Mr Morrow, who he said would be "sadly missed."
"Gary's passion was really for his family, his Christian faith and his Christian work," said Mr Patterson. "He had been involved with Moira Baptist Church almost since its inception 20 years ago.
"For 13 years he ran the Junior Youth Fellowship and was closely involved with youth work in the church.
"In recent years he was a Deacon in the church. Gary was our right hand man, he will be very sadly missed by everyone in the Church family."
One of Mr Morrow's closest friends, Mister Brown, said his friend was 'a real character.'
"He was really bubbly and out going and he was such hard worker.
"He loved working in the church; there was nobody who worked as hard as Gary. He was always doing wee jobs for people.
"He could turn his hand to anything, he was always helping other people. We have lost the backbone of the
"He was a totally devoted family man," he continued, "he loved his family. He was always talking about how good Donna was with computers, how well Sarah was doing at work and how great Ross was with his hands."
Following the church service at Moira Baptist Church, Mr Morrow was laid to rest at Lisburn New Cemetery Blaris Extension. Donations in lieu of flowers to Mega Life Ministries.
Mr Morrow is survived by his wife Donna, children Sarah and Ross, father Bob and step-mother Maureen.
27/07/2007