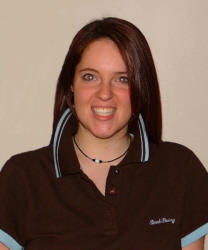 Former Friends' schoolgirl, nineteen-year-old , from Dromore left today (Thursday 25th January) for a five-month mission trip with Operation Mobilisation that will take her to New Zealand for two months and Nepal for the other three. To raise money to fund the trip, Hannah worked at British Home Stores in Lisburn's Bow Street Mall and also sold her horse 'Rosie'. She is a member of Frederick Street Meeting House (Quakers), Belfast, and more locally attends various youth events at Hillsborough Elim Pentecostal Church.
Working in a team with five other people, she will be taking part in a project called T.E.A. (Training, Evangelism and Adventure) set up to help young people from all over the world to grow in discipleship and confidence in sharing the Gospel. The training element will involve daily discipleship and evangelism training; the evangelism element will involve sharing the Gospel with tourists and locals; and the adventure element will involve taking part in various sports including kayaking, rock climbing, mountain biking and rafting.
Starting at the bottom of the south island, Hannah and her team will make their way up to the north both by hiking and by mini bus. They will be staying at campsites, huts and youth hostels and hope that the youth hostels will be great place to meet people and share the Gospel.
At the end of March, Hannah will leave New Zealand and move to Kathmandu in Nepal. She will join up with a new team for this stage and will spend most of her time in the capital city working with street children, meeting with and forming friendships with the local people, teaching English, helping the local church and teaching Bible classes in schools and orphanages. She also plans to do some trekking, which will involve taking Scripture to remote mountain villages - she might even make it to the base camp of Everest!
After her adventurous year out, Hannah plans to start her English or Psychology course at Dundee University in September.


Pictured at a farewell party for Hannah Chittick last Saturday night are L to R: (front row) Rachel Hughes, Louise Miskelly, Laura Kelly, Hannah Chittick and Jenna Murray. (back rows) Gillian McGarel, Gavin McMaghon, Andrew Neill, David McKinney, Julie Dillon, Emma Beggs and Andrew McGuigan.
23/01/2007