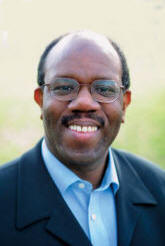 The Revd Canon Joel Edwards, General Secretary of Evangelical Alliance in the UK is the guest preacher at this year's Saint Patrick's Day festival service in Down Cathedral. Joel has held the position of General Secretary of EAUK since 1997 and also serves on a number of faith, government and public agency advisory groups. He is an ordained minister in one of the UK's major Caribbean denominations and an honorary Canon of St Paul's Cathedral. He is passionate about unity within the church, but unity with a purpose - to see real change for real lives and real communities.
The main St Patrick's Day service takes place in Down Cathedral at 11.45am, with an earlier service of Holy Communion in Saul church at 9.30am. The preacher at the service in Saul will be the recently installed Dean of Down, the Very Revd Henry Hull, who succeeded the Very Revd John Dinnen (Rector of Hillsborough Parish) in October 2006.
This year the theme for the day is 'Captive' which links the story of Patrick with the 200th anniversary of the abolition of the slave trade. There will be various elements featured in the services and pilgrimage to reflect this. One example will be in the annual pilgrimage to Down Cathedral, which follows the service in Saul, where pilgrims will carry chains as a symbol of slavery. On the journey pilgrims will also blow whistles in solidarity with the Micah Challenge 'blow the whistle' campaign as a sign that we are coming up to 'half time' in the Millennium Development goals, which seek to halve poverty by 2015. During the Cathedral service links in the chains will be broken to signify the abolition of slavery 200 years ago.
A wreath laying ceremony at Saint Patrick's Grave will follow the service in Down Cathedral. The invited guests this year include members of the Mothers' Union, StreetReach, Tearfund and Evangelical Alliance.
Joel Edwards in Lisburn
Those who do not wish to travel to Downpatrick on St Patrick's Day can hear Canon Joel Edwards a bit nearer home when he will be the guest preacher at a service in Christ Church Parish, Lisburn next Sunday evening (18th March) at 7.00pm. Joel will speak on the topic 'Truly Gracious - is the church good news for our community'' Organised by the Lisburn City Centre Ministers' Fellowship, the evening will be hosted by Steve Cave who is the Northern Ireland Director of the Evangelical Alliance.
12/03/2007