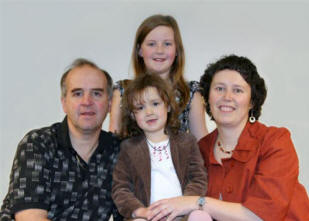 Karen Blythe pictured at Railway Street Presbyterian Church last Sunday morning with her husband Brian and their daughters Sophie and Kate-Lynn.
Karen Blythe will give her reflections on 'living with cancer' in an informal interview with the minister, the Rev Brian Gibson, at a special service in Railway Street Presbyterian Church next Sunday evening (9th December) at 6.30pm.
Lisburn woman Karen, who was diagnosed with breast cancer, will tell her story of how she coped and how the whole experience of living with cancer deepened her Christian faith. Karen will also speak about the invaluable support she received from the Ulster Cancer Foundation's Breast Cancer Support Group. In a recent interview for the Ulster Star, Karen said that she has been attending the group for a year after she and her sister Sandra Mcllroy were diagnosed with breast cancer within 12 weeks of each other. 'Throughout my treatment I was never afraid - I knew what was ahead of me as Sandra pioneered each step for both of us. However, as each person reacts differently to treatment, I found the support groups run by UCF to be invaluable in helping me cope physically and emotionally with my own cancer journey,' she said. 'Sandra and I joined the Newry Breast Cancer Support Group, which we both still attend regularly and I also joined the Lavender Support Group. Attending these groups has been an important part of my recovery as it has allowed me to learn from and help other women who have been through a similar illness.'
Since Karen was diagnosed with breast cancer, her life has started over again. 'I don't worry about the same things I used to worry about,' she said. 'I enjoy life and don't put off until tomorrow something which I can do today. Recovery from breast cancer is possible. There is life after a cancer diagnosis.'
Come and hear Karen's story: everyone will be made most welcome.
02/122007