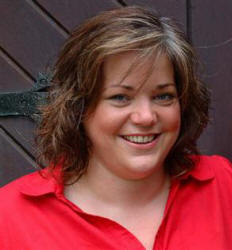 AS many people prepare for the New Year and begin thinking of their resolutions, Lisburn woman Lisa Megarry already knows what she is going to do.
She is hoping to help change lives for the better as she begins a three month mission in Uganda in January.
The local midwife will be leaving Lisburn on January 6 to begin her work with Fields of Life in Rapha Hospital, where she will be helping with health promotion in the area as well as working in the HIV clinic and delivering babies.
Lisa explained, "I went out with Fields of Life last summer for three weeks and I've been bitten by the bug.
"I'm a midwife in Lagan Valley Hospital so I'll be going out to be a midwife in Rapha Hospital, as well as working in the HIV clinic, the maternity ward and helping with a bit of staff training and health promotion."
Lisa, who is a parishioner at Christ Church, Lisburn, said that whilst she is looking forward to the trip she is also feeling nervous about the task ahead.
"I'm looking forward to it very much," she stated, "but I'm a bit apprehensive as well. It's a very big thing to do. The Church have been so supportive, as have the girls in work. They are all working my shifts, this wouldn't be possible without them. I would just like to thank the staff at Lagan Valley and the Church."
Lisa continued, "This will be very challenging but I think that even though I'm going to do these things to try to help, I'll get a lot back in return. The African people are just amazing. In many ways they are so much richer than we are, they are richer in spirit.
"This time I will be a lot more hands-on, the three weeks I had before was only a taster."
Lisa will be being interviewed about her journey in Christ Church by Rev. Paul Dundas on Sunday (December 16).
She said, "The Church have been really supportive financially. The kindness of people has been amazing. This has all happened in the last month so really been able to fundraise but the people from the Church have donated funds towards the trip."
The funds collected will all go towards the work of Fields of Life who aim to change lives in Africa through the provision of quality education, health care and II income generating projects, they also offer a child sponsorship service which helps to ease the lives of children living in poverty.
Lisa concluded, "This is an absolutely fantastic opportunity. I would encourage anybody that feels way inclined to go for it, the reward is amazing, you really do get more in return."
If you would like to make a donation to Lisa's trip you can contact the Christ Church Parish office on 028 9267 3271. For further information about the work of Fields of Life visit the website at www.fieldsoflife.com.
14/12/2007