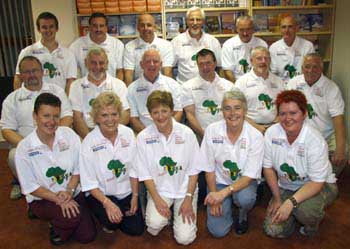 The Lisburn Leprosy Mission work and witness team pictured last Tuesday night making final preparations for their first Mission trip to Tanzania next week (Tuesday 2nd October). L to R: (front row) Maeve Egerton, Daphne Kerry, Margaret Wilson, Edith Uprichard and Mandy Dugan. (second row) Team Leader - Rev Tom Robinson (Deputy Director of TLMNI), Mark Noble, Henry Thompson, Alan Walker, Sam Black and Maurice McClure. (back row) William Robinson, Stephen Robinson, Gary Smith, Ivan Crowe, Reuben Woolsey and Noel Twinem. Missing from the photo are: Margaret Wallace, Jonathan Robinson and John Tuff.
A work and witness team from the Lisburn Leprosy Mission will travel to Tanzania next Tuesday morning (2nd October) to take part in a project called 'Help Hombolo'. Led by the Rev Tom Robinson, Deputy Director of TLMNI, the team of 20, which includes 4 members from the Lisburn area, will be based at Samaria, just outside the little rural village of Hombolo.
The settlement of Samaria is made up of 49 houses and many of the 180 people who live there are affected by leprosy. Although cured of the disease, and a threat to no one, they came together in community some years ago because of the pressure and stigma forced upon them by a wider society driven by fear and superstition. Today they are subsistence farmers. They have no source of income and exist depending on the crops they plant to feed them and their families. They live in homes that are unsatisfactory and beyond repair. The Leprosy Mission have been asked to 'Help Hombobo' and the aim of the trip is help the people of Samaria help themselves by coming alongside them to build 5 basic but structurally sound houses. There is no electricity or indoor plumbing in the village so these houses will consist of a brick structure on concrete foundations and floor covered by a corrugated tin roof.
The team met in the Leprosy Mission office, Lisburn last Tuesday night (25th September) to make final preparations for their first Mission trip to the area where they will work with the people of the village and seek to show and share the love of Christ.
25/09/2007