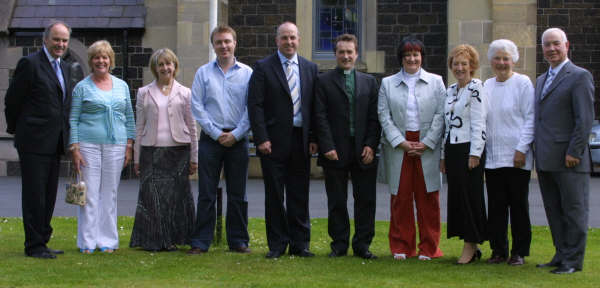 Pictured on Tuesday 29th May at the last of three lunchtime concerts entitled 'Music in May' held in Christ Church Parish, Lisburn are L to R: Gary Kennedy (Principal), Rosemary McNally (pianist) and Jean Glass (conductor) from Waringstown Primary School, Richard Yarr - Director of Music at Christ Church, Councillor James Tinsley - Deputy Mayor, Rev Paul Dundas - Rector, Rev Diane Matchett - Curate, Laureen Lunn ' Mayoress, Sylvia Creighton - Christ Church choir secretary and Alderman Ivan Davis.
Waringstown Primary School Choir conducted by Mrs Jean Glass and accompanied by Mrs Rosemary McNally on piano rounded off a series of three lunchtime concerts entitled 'Music in May' held in Christ Church Parish, Lisburn on Tuesday 29th May.
The Rector, the Rev Paul Dundas introduced the programme and welcomed the choir, congregation, visitors and guests including the Lisburn Deputy Mayor Councillor James Tinsley and the Mayoress Mrs Laureen Lunn. In an excellent performance, Waringstown Primary School Choir, now recognised as one of the top Primary Schools choirs in the United Kingdom sang, 'Be Still', 'There is a Redeemer', 'The Lord's my Shepherd', 'All Things Bright and Beautiful', 'Alleluia' and 'Jonah'. The soloists were Sarah Logan and Tom Brown. Gareth Hutchinson and Nicola Gardiner read portions of Scripture from Psalm 100 and Psalm121. The programme also included duets by talented former pupils Aisling and Katherine Kennedy (daughters of the Principal - Mr Gary Kennedy) who are now studying music at Queens and Stranmillis.
Waringstown Primary School Choir is no stranger to high-level media performance having participated in Excellence at Work (Channel 4 Television), A Christmas Carol (BBC Northern Ireland) and Ulster Television's School Choir of the Year, winning the Regional Heat on three occasions and the coveted title of Primary School Choir of the Year in 1998. More recently the choir won the prestigious BBC Songs of Praise UK Junior School Choir of the Year. Their success has brought them many opportunities to perform to a wider audience both here and on the mainland, taking part in the Big Sing at the Royal Albert Hall and also appearing on several Songs of Praise programmes, as well as Sing Carols from the Ulster Hall, Belfast. In March 2005 they shared top billing with Aled Jones at a concert in the Ulster Hall.
The series of three lunchtime concerts in Christ Church Parish, Lisburn began on Tuesday 15th May when renowned local violinist Hayley Howe played a selection of popular and classical favourites accompanied by Christ Church organist Richard Yarr. On Tuesday 22nd May, soprano Sheelagh Greer made a welcome return to Christ Church. Sheelagh was accompanied by Richard Yarr with a solo spot for award-winning Lisburn pianist - John Wilson, one of the Lisburn's rising stars.
Prior to each concert, members of Christ Church Choir served a delicious lunch of salads, dessert and refreshments in the church hall.
30/05/2007