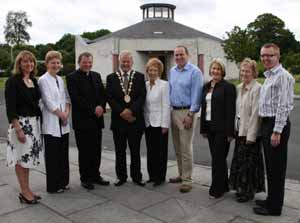 The Right Worshipful the Mayor, Councillor Trevor Lunn MLA and the Mayoress Mrs Laureen Lunn are welcomed to St Colman's Church, Lambeg by the Parish Priest for Derriaghy, the Very Rev Fergal McGrady and some members of the Parish Pastoral Council. L to R: Marcella Phillips, Imelda Scott, the Very Rev Fergal McGrady, Councillor Trevor Lunn MLA (Mayor), Mrs Laureen Lunn (Mayoress), John Steen, Eileen McGarry, Phil Traynor and Joe Robinson.
At the beginning of his term of office as Lisburn's First Citizen, The Right Worshipful the Mayor, Councillor Trevor Lunn sent a letter to all church leaders showing his willingness to visit churches in the Lisburn City Council area in keeping with his mayoral theme to embrace diversity and ensure that 'Lisburn is a City for all'. Many ministers accepted his invitation resulting in a very busy but interesting and enjoyable schedule of engagements for him and his wife Laureen. They concluded their visits to Lisburn churches on Sunday 17th June when they visited St Colman's Church, Lambeg and were welcomed by the Parish Priest for Derriaghy, the Very Rev Fergal McGrady.
Churches visited during his Mayoral year included: First Lisburn, Railway Street, Sloan Street, Hillhall, Elmwood, Legacurry, Dunmurry, Kilmakee, Ballycairn and Second Dromara Presbyterian Churches; Hillsborough Free Presbyterian Church; Lisburn Reformed Presbyterian Church; Lisburn Cathedral, St Paul's, Christ Church - Lisburn, St Malachy - Hillsborough, St Mark's - Ballymacash, St Colman's - Dunmurry, Parish Church of St Patrick - Drumbeg and St Andrew's - Killaney; St Patrick's - Lisburn and St Lukes - Twinbrook Roman Catholic Churches; Sloan Street, Trinity and Glenavy Methodist Church; Mount Zion Free Methodist Church; Religious Society of Friends (Quakers); Salvation Army; Lambeg Baptist; Ballinderry Moravian; Lisburn Elim and Lisburn Christian Fellowship.
Trevor's Mayoral year seen many changes at our Lisburn churches. Vacancies were created at: Dromara Reformed Church when the Rev John Hawthorne moved to Dervock in April 2006; Church of Saint John the Evangelist, Dromara when the Rev Alan Millar moved to St. Comgall's, Rathcoole in September 2006; Hillhall Presbyterian when the Rev Jack Richardson retired in December 2006; Maghaberry Elim Pentecostal Church when Pastor Johnny Brown moved to Portadown Elim in February 2007; St Columba's when the Rev John Honeyford moved to Castlederg and Alt in April 2007; Ballycairn Presbyterian Church when the Rev Victor Sinclair retired in April 2007; and more recently at Emmanuel Baptist when Pastor Robert Murdock will move to Canada in November. There were new appointments at: The Apostolic Church, Lisburn when Pastor Jim Vance succeeded Pastor Uel Cheyne in April 2006; Ballinderry Moravian when Sr Patsy Holdsworth (Student Minister) succeeded the Rev Eckhard Buchholz in September 2006; St Patrick's, Lisburn when the Very Rev Dermot McCaughan succeeded the Very Rev Father Hugh Kennedy in August 2006; St. Peter's Church (The Rock) Stoneyford when the Very Rev David Delargy succeeded the Very Rev Dermot McCaughan in August 2006; Lambeg Baptist Christian Centre in November 2006 when Pastor Trevor Lennon succeeded Pastor Jim Murdock who left in June 2004; Lisburn Baptist Church in January 2007 when Pastor John Taylor succeeded Pastor Gordon Cardwell who retired in October 2001; and Dunmurry Free Presbyterian Church in January 2007 when the Rev Dr Fred Greenfield succeeded the Rev William Beattie who retired in December 2005.
In addition to his already hectic schedule of engagements as Mayor, he was elected MLA on Wednesday 7th March. After a short illness, he was well enough to attend the reconvening of the Northern Ireland Assembly on Tuesday 8th May and complete his many duties as First Citizen and take up his new appointment as MLA. Mr Lunn relinquished his mayoral duties this week (Thursday 21st June).
18/06/2007