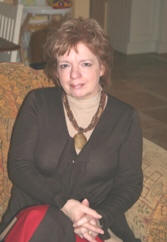 Mrs Moira Thom, a parishioner at Christ Church Parish, Lisburn, is the new President of Connor Mothers' Union in succession to Mrs Norma Bell, Eglantine Parish.
Moira, 50, and husband Edmund have three children, Louise, Rachael and Robin. She first became involved in the MU at St Patrick's Parish, Broughshane more than 20 years ago. 'St Patrick's is a very friendly church and I was invited to come to the MU. Robin was just a baby and it was a great way to get to know people.' The family later moved to Ballymena, and then to Lisburn, where they joined the parish of Lisburn Cathedral. Moira led the Cathedral branch of MU for five years in the mid 1990s. Despite family commitments, Moira always found time for the MU. 'If it is worth doing, you will find the time to do it, and once you are aware of the great work the MU is doing then it all becomes worthwhile. It is not just a meeting in a church, although that's important. What we do in changing people's lives is what makes it worthwhile,' she said, 'People still say they don't see the relevance of MU. How can I as a woman fortunate to be born into an affluent society turn my back on someone who is just like me but born in a poor community in Africa and not do something to help them'' During her time at Lisburn Cathedral, a direct link was formed with an MU branch in Kenya, and Moira met the Bishop of the Diocese, and representatives from the MU there. She moved to Christ Church Parish, Lisburn, four years ago, having been branch young members rep, branch enterprises rep, area MU chairperson for Lisburn and action and outreach co-ordinator for the diocese. Moira said she is looking forward to her new role. 'I am quite excited and slightly scared,' she said - 'It is a huge honour'.
She said members should be encouraged to talk about the work the MU does. 'There is nothing wrong with being tea makers, hospitality is very important, but there's more to us, we are on the world stage and are the second biggest charity in Africa after Christian Aid.' Moira said the job would be demanding but worthwhile. 'When I speak at branch meetings I love to come away thinking I have left people proud to be a member. You can see it in them. When you finish they are sitting with their shoulders back saying 'isn't this a great organisation to be part of,'' she said.
25/01/2007