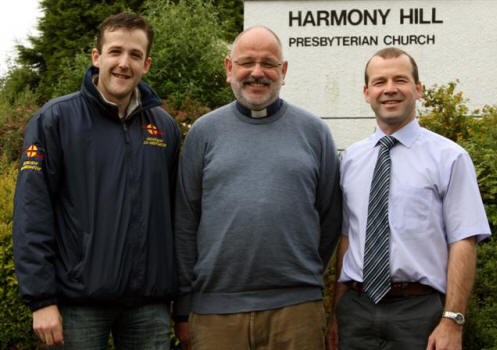 Rev David Knox pictured with new assistant minister, the Rev Clarke Deering (right) and new Outreach Co-ordinator John Blair (left).
Two new appointments have been made at Harmony Hill Presbyterian Church, Lambeg, in assistance to the minister, the Rev David Knox.
The Rev Clarke Deering, who has been appointed the new minister, commenced his duties on Sunday 3rd June in succession to the Rev Karen Campbell, who left Harmony Hill on Sunday 25th March and was installed in First Islandmagee on Thursday 19th April 2007. Rosslea (Co Fermanagh) man Clarke, formerly a member of First Monaghan, is married to Hazel and they have four children Rachel, Stewart, Roger and Conor.
Another recent appointment is that of full time Outreach Co-ordinator. John Blair, who previously worked for the YMCA in Lurgan, was appointed in September 2006. His main duties include responsibility for the Base ?Drop In? Centre (located in the basement of the church), which opened in January 2007. Portballintrae man John, a member of Portrush Gospel Hall, is married to Angela and the young couple are expecting their first baby in October. Currently residing in Moira, they plan to move to Maghaberry this summer.
21/06/2007