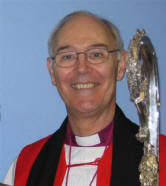 A new Crozier has been commissioned for future Bishops of Connor. Before Christmas, the current Bishop, the Rt Rev Alan Harper, commissioned goldsmith Graham Harron of Killylea to design and make a new Crozier for the diocese.
The existing Crozier, which dates from 1876, incorporates a piece of an older 17th century Crozier and is, according to Bishop Harper, in a somewhat fragile condition.
When the new Crozier is in use, the existing Crozier will be loaned to St Anne's Cathedral to be put on public display.
Bishop Harper said: 'I use the Crozier at every confirmation and every service I go to in the diocese. It has taken a lot of knocks in its time. It originally belonged to the old Diocese of Down, Connor and Dromore, and in 1945 came to Connor when the dioceses were separated, because the Bishop stayed in Connor.
'The new Crozier will be loosely based on the Ardclinis Crozier which came from the diocese and is now in the National Museum of Dublin, but it will be quite distinctive.'
The Crozier will come in three pieces, making it easier to transport around than the existing large Crozier, said Bishop Harper.
The head will be silver and gold studded with amethyst and decorated with Celtic designs, while the snakes on the old Crozier will be incorporated into the new one.
Bishop Harper said he hoped the new Crozier would be ready for use by St Patrick's Day. March 17.
21/01/2007