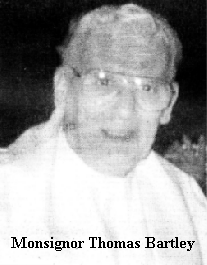 PARISHIONERS of St Anne's Church in Finaghy travelled to Carryduff on Saturday to attend Requiem Mass for their former Parish Priest, Monsignor Thomas Bartley who recently passed away . The Principal Celebrant at the Church of Mary Immaculate where Monsignor Bartley served as full time Curate after leaving St. Anne's was the Most Rev. Patrick Walsh, Bishop of Down and Connor.
Bishop Walsh described the Monsignor's dying and death as 'a grace to those closest to him'.
He said this applied especially to the group of young priests who kept a constant prayerful vigil' at his side as he 'waited in calm and in peace for that final call of the Lord to share in eternal glory'.
The Bishop also said Monsignor Bartley, who served as Down and Connor's Vicar General, had lived the words of St Paul 'be sure to finish -the work you are given in the Lord's service'.
"When he retired as Parish Priest of St. Anne's in 2002 he certainly did not see his work in the Lord's service as finished," Bishop Walsh continued.
"He wished to continue to serve in full time Ministry as curate here in the parish of Drumbo and Carryduff.
"I wish to thank the people of this parish for making those last five years such happy ones for him. I also thank the parishioners of St. Annes for their loyalty during his long years with them."
Monsignor Bartley's remains were laid to rest at St. MacNissi's College, Garron Tower where he was one of five priests who formed the nucleus of staff when the school opened in the early 1950's.
He remained there for 34 years serving as President from 1979 to 1985 when he was appointed Parish Priest of Derriaghy. The position of Vicar General was bestowed in 1986.
In 1994 the Parish was divided to make St. Anne's a Parish in its own right and the Monsignor was made its Parish Priest.
Two years later the Parish of Our Lady Queen of Peace was formed out of St. Anne's. Education remained his great interest and locally he oversaw the setting up of the primary school in the new Parish of Christ the Redeemer and the development of St. Colm's High School in Twinbrook.
He also oversaw the setting up of Aquinas Grammar School and continued as a Governor of St. MacNissis.
He also served as Chairman of the Board of Governors at Rathmore Grammar School.
16/11/2007