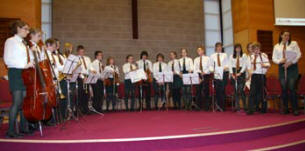 At the PWA service are L to R: The Rev John Brackenridge, Eleanor McFadzean (President), Margaret Rooney (Vice President), Evelyn Whyte (Deaconess - First Lisburn) and Sharon Heron (Deaconess - Strand Presbyterian Church). (back row) Jacqui Brackenridge, Inez Price, Kathy Robinson and Annabell Poots MBE.
The First Lisburn branch of the Presbyterian Women's Association held their annual service in First Lisburn Presbyterian Church on Sunday 4th November. Following the call to worship and announcements by the minister, the Rev John Brackenridge, the First Lisburn Branch President Eleanor McFadzean, welcomed the congregation and gave a special welcome to the ladies of the PWA. Evelyn Whyte, First Lisburn Deaconess, led the service and the guest speaker was Sharon Heron, Deaconess of Strand Presbyterian Church.
The PWA Choir accompanied by organist Tom Whyte sang the anthem, 'The Lord's My Shepherd'; Evelyn Whyte and Kathy Robinson led the prayers; Margaret Rooney (Vice President) and Laura McMillen read the Scripture lessons; Maureen Staniland, Florence Blair and Irene Richer gave a reading for three people entitled 'Seeing is Believing'.
Mrs Heron chose as the topic for her address 'Come and see our awesome God'. She spoke about her work in Strand Presbyterian Church and the new Red Sky Project, which her church is undertaking in the incoming year. The project involves rebuilding their church to a new purpose built community centre where they hope to reach out everyday in their Sydenham community.
Joining with the PWA and members of First Lisburn congregation in a spirit of faith and friendship were Clonard Unity Pilgrims Harry Maguire, Ed Peterson, Geraldine Connolly, Patrick Connolly and Maura Maguire.
| | | |
| --- | --- | --- |
| | | |
| The Rev John Brackenridge pictured at the PWA service with Clonard Unity Pilgrims Harry Maguire (left) and Ed Peterson (right) and L or R: (seated) Geraldine Connolly, Patrick Connolly and Maura Maguire. | First Lisburn PWA President Eleanor McFadzean presents a gift to Strand Presbyterian Church Deaconess Sharon Heron (right) at the PWA service in First Lisburn Presbyterian Church last Sunday morning. Looking on is First Lisburn Deaconess Evelyn Whyte (left). | L to R: Maureen Staniland, Florence Blair and Irene Richer gave a reading for three people entitled 'Seeing is Believing' at the PWA service in First Lisburn. |
| | |
| --- | --- |
| | |
| First Lisburn PWA choir pictured during the PWA service in First Lisburn. | Enjoying lunch following the PWA service in First Lisburn. |
05/11/2007