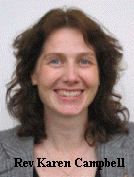 At a meeting of Dromore Presbytery in First Lisburn Presbyterian Church on Tuesday 6th March, the Rev Karen Campbell, assistant minister of Harmony Hill Presbyterian Church, Lambeg, received a call to First Islandmagee, in the Presbytery of Carrickfergus. Karen will leave Harmony Hill on Sunday 25th March and will be installed in First Islandmagee on Thursday 19th April 2007.
Lurgan born Karen Campbell (nee Williams), a talented pianist, obtained a Diploma in Performance and Piano in 1991 during her university education at Trinity College, Dublin (1994-1998. She married David Campbell, a fine bass singer, in 2001 and together they have proclaimed the gospel in music and song in Harmony Hill and at many venues across the Province.
Following three years as a missionary in Kenya with PCI (1998-2001), Karen attended Union Theological College in Belfast, where she gained a Master of Divinity in 2004. In September of that year, she was appointed assistant to the Rev David Knox at Harmony Hill Presbyterian Church.
While Karen is obviously delighted with her call to Islandmagee, she says, ' I will miss the invaluable friendships that I have formed at Harmony Hill. I feel that the people there have given me the space to develop my talents and also to reinforce my sense of calling to the ministry. I will also miss the city of Lisburn and its vibrant community but I feel that this is the right time to move forward in faith and to seek God's will in a new setting'.
12/03/2007