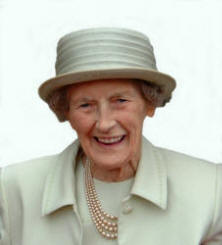 A Service of Thanksgiving for the life and witness of Jean Murdock of Ulster Avenue, Dunmurry, was held in Finaghy Baptist Church last Friday morning (13th July). Pastor Alistair Campbell led the service. Mrs Olive Donnellan presided at the organ and the soloist was Mrs Joan Wilson.
In a glowing tribute to Jean, Mr Brice Donnellan recalled a long and good life that touched and influenced hundreds of other lives. Born in Belfast on 11th October 1917, Jean Kelly grew up in the city and the family attended Albert Street Presbyterian Church. Jean's father died at a comparatively young age and in 1939 the family moved to Dundonald and some time later joined Dundonald Presbyterian Church. In 1953, Jean married Joe Murdock, at which point they came to reside at Ulster Avenue, Dunmurry. They began married life as the proprietors of a petrol filling station at Kingsway, Dunmurry (just at the end of Ulster Avenue) where Jean was a tremendous help to Joe in the running of the business.
Jean was a talented musician and from the mid sixties and for many years thereafter, she played the organ at Finaghy Baptist Church and this ministry was precious to her and to those who were blessed by it. She did so with a devotion which could not be over emphasized and which was constantly to the glory of God. On 13th February 1994, Jean lost her beloved husband Joe to illness and although this was a tremendous blow for Jean to bear, she did so with calm and tremendous fortitude.
In conclusion, Mr Donnellan read an extract from correspondence sent from New Zealand by Jean's niece Margaret, 'Jean enjoyed her friends and family and her wider Church community. For many years she got great pleasure from her music pupils and for a long time after 'retiring' from just playing for herself and for her friends. She often used to say how our parents (and especially our father) used to love to sing while she played familiar pieces. Jean took great delight in small things; she was a good and kind woman.'
In his address, Pastor Campbell spoke of Jean's love for the Kelly family and explained that at just 9 years of age, Jean entered another family - the family of God. Referring to a recent TV programme 'Who do you think you are'' he explained that if this question was asked of Jean Murdock, the answer would be that she was a 'Christian who - lived a life of faith; shared and showed her love of Jesus; learned to listen and walk with Jesus; and sang and played for Jesus'. Jean's love of Jesus was aptly summed up in her chosen hymns 'When my life-work is ended' and 'When all my labours and trails are over' which contains the wonderful words of promise 'when by His grace I shall look at his face, that will be glory, be glory for me'. Pastor Campbell concluded that Jean is now in the presence of and in sight of her Lord, in a land where she will never grow old.
Ladies of the congregation served refreshments in the Church Hall following the service and prior to the committal at Clandeboye Cemetery, Bangor.
16/07/2007