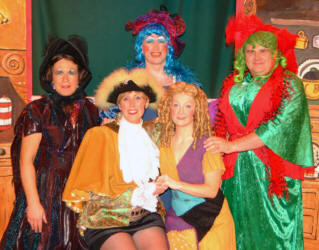 Pictured on Thursday evening 1st February during rehearsals for a pantomime in Fort Hill Integrated College are Seymour Street Methodist Church members L to R: (front) Prince Charming (Anne Patterson) and Cinderella (Wendy McAllister) and (back row) Baroness Hardup (Lois Wilson), Frutti (Brian Trainor) and Trutti (Rev Brian Anderson).
Members of Seymour Street Methodist Church, Lisburn, took to the stage of Fort Hill Integrated College on Friday 3rd and Saturday 4th February when the cast of budding actors performed the well-known pantomime 'Cinderella'. Anne Patterson and Wendy McAllister performed the lead roles of Prince Charming and Cinderella; and Lois Wilson, Brian Trainor and the minister, the Rev Brian Anderson, performed the supporting roles of Baroness Hardup, Frutti and Trutti.
With over 300 tickets sold for each performance the hall was packed each evening. Proceeds from the event were in aid of the church's building fund.
05/02/2007